Do Teacher Induction and Mentoring Matter?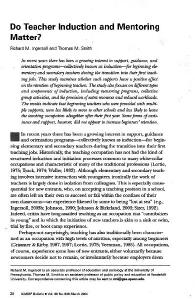 Subject
Policy and Administration
Secondary Education and Teaching
Contributor
Abstract
In recent years there has been a growing interest in support, guidance, and orientation programs-collectively known as induction - for beginning elementary and secondary teachers during the transition into their first teaching jobs. This study examines whether such supports have a positive effect on the retention of beginning teachers. The study also focuses on different types and components of induction, including mentoring programs, collective' group activities, and the provision of extra resources and reduced workloads. The results indicate that beginning teachers who were provided with multiple supports, were less likely to move to other schools and less likely to leave the teaching occupation altogether after their first year. Some forms of assistance and support, however, did not appear to increase beginners' retention.
Date Range for Data Collection (Start Date)
Date Range for Data Collection (End Date)
Digital Object Identifier
Comments
<p>Reprinted from <em>NAASP Bulletin</em>, Volume 88, Number 638, March 2004, pages 28-40.<br /> <br /> The author, Dr. Richard M. Ingersoll asserts his right to include this material in ScholarlyCommons@Penn.</p>
Collection