Active Part-Decomposition, Shape and Motion Estimation of Articulated Objects: A Physics-based Approach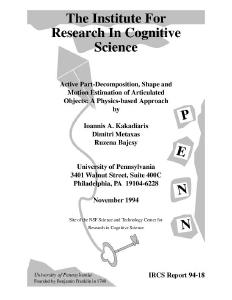 Files
Penn collection
IRCS Technical Reports Series
Contributor
Abstract
We present a novel, robust, integrated approach to segmentation shape and motion estimation of articulated objects. Initially, we assume the object consists of a single part, and we fit a deformable model to the given data using our physics-based framework. As the object attains new postures, we decide based on certain criteria if and when to replace the initial model with two new models. These criteria are based on the model's state and the given data. We then fit the models to the data using a novel algorithm for assigning forces from the data to the two models, which allows partial overlap between them and determination of joint location. This approach is applied iteratively until all the object's moving parts are identified. Furthermore, we define new global deformations and we demonstrate our technique in a series of experiments, where Kalman filtering is employed to account for noise and occlusion.
Date Range for Data Collection (Start Date)
Date Range for Data Collection (End Date)
Digital Object Identifier
Comments
University of Pennsylvania Institute for Research in Cognitive Science Technical Report No. IRCS-94-18.
Collection