wH2O: The Journal of Gender and Water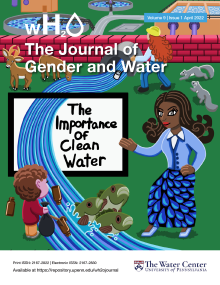 ISSN
<p>Print: 2167-2822 <br> Online: 2167-2830
Discipline
Africana Studies
Appalachian Studies
Curriculum and Social Inquiry
Ecology and Evolutionary Biology
Environmental Design
Environmental Engineering
Environmental Health
Environmental Law
Environmental Studies
Feminist, Gender, and Sexuality Studies
Other German Language and Literature
Risk Analysis
Technical and Professional Writing
Urban, Community and Regional Planning
Water Resource Management
Women's Studies
Description
wH2O, the Journal of Gender and Water, is an internationally recognized, peer reviewed publication serving as a centralized hub for information on gender issues related to water, sanitation and hygiene and gender equity in the water sector. Our vision is to become an internationally recognized journal that serves as a centralized hub for information related to gender mainstreaming related to water, sanitation and hygiene, and gender equity in the water industry. Submit your work for publication in our upcoming volumes via journal's portal: https://repository.upenn.edu/cgi/submit.cgi?context=wh2ojournal
Search Results
Water and Women's Participation The Case of One Million Rural Cisterns Program in Serra Talhada, Pernambuco

(

2019-03-04

)

Façanha, Islene Pinheiro

The participation of women is crucial in the domain of water management, given the vital role women play in the collection and maintenance of communal water supplies, and in regulating and controlling its use. Unfortunately, they are seldom considered in the development of water policies, and rarely are they members of bodies regulating water management. Current evidence suggests that the participation of women in rural water supply projects leads to improved outcomes for both women and the wider community. Using interviews, focus groups, questionnaires, and field observation, this paper explores the participation of women in the One Million Rural Cisterns Program, and how this has contributed to more sustainable water management in Serra Talhada, Brazil. The work highlighted the role of women in domestic water management by examining the changes which occurred in communities, and particularly the impact on women's day to day lives, following implementation of the program, as well as the specific views of women regarding solutions to local problems. This research adds new context-specific data to the understanding of the One Million Rural Cisterns Program and highlights the essential role of the participation of women and gender equity more generally.

The Accidental Alchemist

(

2017-10-10

)

Lazos, Pamela J.

Disclaimer: *Ms. Lazos' opinions are hers alone and do not represent those of the US Environmental Protection Agency.

Comparison of Students ́Acceptance of Conventional and Ecological Sanitation in Rural Schools

(

2019-03-04

)

Wendland, Claudia

In rural areas of Eastern Europe, the Caucasus and Central Asia (EECCA) without reliable piped water supply, the conventional school sanitation system – the pit latrine – is leading to hygienic and environmental problems. Urine diverting dry toilets (UDDT) have been demonstrated to be an alternative, ecological sanitation solution for rural schools of the EECCA region. This study compares the acceptance, perception and absenteeism of students at schools served by the two different sanitation systems (ecosan versus pit latrine), comprising 18 schools in six countries of the region. A combination of quantitative and qualitative data collection methods was applied: absenteeism data from official school records (only in Eastern Europe and the Caucasus (EEC), a standardized questionnaire, and focus group discussions (FGDs).Results of the EEC school records show that the intervention led to a significant decrease in monthly absenteeism; however, a bigger school sample size is needed to confirm the results. Overall, high acceptance of school toilets can be translated into sanitation conditions providing comfort, cleanliness and privacy. Both male and female students preferred the UDDTs compared to pit latrines in all studied countries. The acceptance is significantly higher inareas where pit latrines are predominant, as in Central Asia (CA), in contrast to EEC. The study highlights the impact poor quality sanitation has on students` fluid intake especially in CA. Girls benefit more from the intervention, as they suffer more than boys from the inadequate sanitation conditions of the common pit latrines in rural schools.

Pushing Forward in the Changing Water Sector: An Interview with Kishia L. Powell, COO, DC Water

(

2021-03-05

)

Drabick, Abigail

Kishia Powell is a licensed Professional Engineer in the District of Columbia, Virginia and Maryland. She holds a Bachelor of Science degree in Civil Engineering from Morgan State University's Clarence M. Mitchell, Jr. School of Engineering. Currently, Powell is Chief Operating Officer at DC Water, where she manages 80% of the water authority's resources. With over 22 years of experience, Kishia Powell sheds light on the value of water, her experience as a leader and a woman in the water utilities industry, the COVID-19 pandemic, and climate change in this interview with The Journal of Gender and Water. Through her storytelling of challenges, progress, and triumphs, not only do we get a window in Kishia Powell's career journey, but the water sector as a whole. From the complex conversations about racial equity, access, and affordability in public systems, to infrastructure investment we can see through Powell's experiences that she, alongside other empowered leaders, are actively addressing these matters and pushing the industry forward.

Menstrual Health and Hygiene Management and WASH in Urban Slums: Gaps in the Evidence and Recommendations

(

2020-03-10

)

Goddard, Sarah J.

;

Sommer, Marni

The rapid urbanization and development of megacities across many low- and middle-income countries creates new challenges in global health; this is particularly true for women and girls who are disproportionately affected by poor urban planning, inadequate sanitation infrastructure, and limited access to water. Urban slums serve to reinforce many gendered inequalities, as reflected in poor sexual and reproductive health outcomes and various other health and wellbeing indicators. Women and adolescent girls in urban slums are particularly vulnerable in relation to their experiences of menstruation, given the limited access they may have to safe, private spaces with water for changing, washing, bathing, and laundering reusable pads, menstrual cloths and pads, and insufficient access to culturally acceptable, adequate disposal mechanisms for used menstrual materials. On-going taboos and stigma around menstruation likely augment these challenges in urban slum contexts; however, there exists limited literature on the intersection of menstrual hygiene management with water and sanitation systems in urban slums in low- and middle-income countries. Through a review of literature, this article seeks to highlight critical interlinkages between urbanization, sanitation, and menstruation, and identify important gaps in the existing menstruation-related evidence base that have implications for the health and wellbeing of adolescent girls and women.

Facing Rural Water Insecurities: Adapting Gendered Indigenous Approaches in Ondo State, Nigeria

(

2021-03-05

)

AWONIYI, PAUL

The participation of women in water management is critical for households and for safeguarding the health and hygiene of rural women and men, especially in Africa and around the world. This paper argues that the knowledge around gender- based water management among rural dwellers is still underrepresented and provides the rationale for this study. Qualitative methods were used to examine the approaches in rural water management and their impact on women and their livelihoods through interviews, narratives, and the respondents' everyday experiences. Significant findings from this study revealed that the indigenous participation of women in water management at individual households improved the quality of water among the rural dwellers. Further findings also showed that the impact of gender insensitivity has reemphasized the limited role of women in rural water management (RWM) at the community level. It was concluded that various indigenous practices by women in an effort to make water potable in these villages have contributed to meeting their practical gender needs (PGNs) based on their cultural roles. However, channeling water from surrounding rivers by pipe into every street and regular gender awareness assembly between men and women across the rural communities could improve the livelihood of women by contributing to their strategic gender needs (SGNs).