Towards Robotic Self-reassembly After Explosion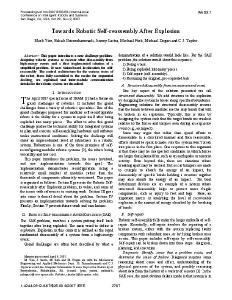 Penn collection
Departmental Papers (MEAM)
General Robotics, Automation, Sensing and Perception Laboratory
Contributor
Abstract
This paper introduces a new challenge problem: designing robotic systems to recover after disassembly from high-energy events and a first implemented solution of a simplified problem. It uses vision-based localization for self-reassembly. The control architecture for the various states of the robot, from fully-assembled to the modes for sequential docking, are explained and inter-module communication details for the robotic system are described.
Date Range for Data Collection (Start Date)
Date Range for Data Collection (End Date)
Digital Object Identifier
Comments
Reprinted from <em>Proceedings of the 2007 IEEE/RSJ International Conference on Intelligent Robots and Systems, IROS 2007</em>, October 2007. <br><br> This material is posted here with permission of the IEEE. Such permission of the IEEE does not in any way imply IEEE endorsement of any of the University of Pennsylvania's products or services. Internal or personal use of this material is permitted. However, permission to reprint/republish this material for advertising or promotional purposes or for creating new collective works for resale or redistribution must be obtained from the IEEE by writing to pubs-permissions@ieee.org. By choosing to view this document, you agree to all provisions of the copyright laws protecting it.
Collection