Formal Modeling and Analysis of Power-Aware Real-Time Systems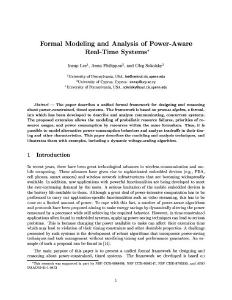 Files
Contributor
Abstract
The paper describes a unified formal framework for designing and reasoning about power-constrained, timed systems. The framework is based on process algebra, a formalism which has been developed to describe and analyze communicating, concurrent systems. The proposed extension allows the modeling of probalistic resource failures, priorities of resource usages, and power consumption by resources within the same formalism. Thus, it is possible to study several alternative power-consumption behaviors and tradeoffs in their timing and other characteristics. This paper describes the modeling and analysis techniques, and illustrates them with examples, including a dynamic voltage-scaling algorithm.
Date Range for Data Collection (Start Date)
Date Range for Data Collection (End Date)
Digital Object Identifier
Comments
University of Pennsylvania Department of Computer and Information Science Technical Report No. MS-CIS-02-12. An earlier, conference version of this technical report may be found at http://repository.upenn.edu/cis_papers/141/.
<br>University of Pennsylvania Department of Computer and Information Science Technical Report No. MS-CIS-02-12. An earlier, conference version of this technical report can be found at http://repository.upenn.edu/cis_papers/141/ <br><p>
Collection