Annuity Valuation, Long-term Care, and Bequest Motives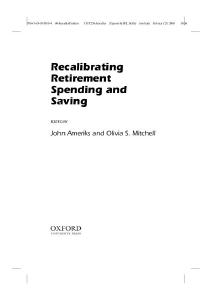 Penn collection
Wharton Pension Research Council Working Papers
Subject
long-term care
annuities
financial security
retirement
Economics
Contributor
Abstract
Financial security in retirement has traditionally meant having a steady flow of annuity income as long as one lives, a definition enshrined in the Social Security system. Our earlier research has stressed a more holistic approach, which focuses on the match between resources and spending needs. This formulation enables us to estimate annuity values given long term care concerns and bequest motives, where these estimated values are consistent with low observed demand for standard annuities. This chapter uses this model to value non-standard annuities with various security-enhancing features that we believe may be of value to retirees.
Date Range for Data Collection (Start Date)
Date Range for Data Collection (End Date)
Digital Object Identifier
Comments
The published version of this Working Paper may be found in the 2008 publication: Recalibrating Retirement Spending and Saving (https://pensionresearchcouncil.wharton.upenn.edu/publications/books/recalibrating-retirement-spending-and-saving/).
Collection