Four Myths About America's Teacher Quality Problem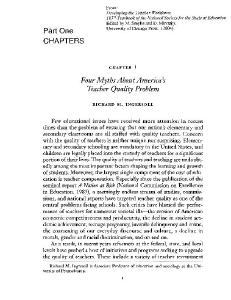 Subject
Policy and Administration
Author
Contributor
Abstract
Few educational issues have received more attention in recent times than the problem of ensuring that our nation's elementary and secondary classrooms are all staffed with quality teachers. Concern with the quality of teachers is neither unique nor surprising. Elementary and secondary schooling are mandatory in the United States, and children are legally placed into the custody of teachers for a significant portion of their lives. The quality of teachers and teaching are undoubtedly among the most important factors shaping the learning and growth of students. Moreover, the largest single component of the cost of education is teacher compensation.
Date Range for Data Collection (Start Date)
Date Range for Data Collection (End Date)
Digital Object Identifier
Comments
Reprinted from <em>Developing the Teacher Workforce, 103rd Yearbook of the National Society for the Study of Education</em>, edited by Mark A. Smylie and Debra Miretzky (Chicago, University of Chicago Press, 2004), pages 1-33.
Collection