China in Africa: A New Approach to Media Development?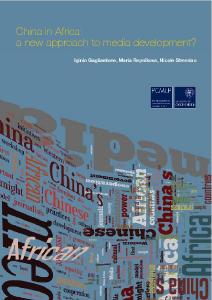 Penn collection
Other Publications from the Center for Global Communication Studies
Subject
Communication
International and Area Studies
Contributor
Abstract
This report is based on the outcomes of the workshop organized by the Programme in Comparative Media Law and Policy (PCMLP) at the University of Oxford and the Stanhope Centre for communications Policy Research. The workshop reflected on China's growing influence in Africa's communications sector and on the implications this has on the prevailing local and Western approaches to media assistance and media development in Africa and beyond. It brought together researchers from Africa, China, and Europe to build a common research agenda and to develop an innovative and multi-actor approach to studying the transformations experienced by media systems in an increasingly multi-polar world.
Date Range for Data Collection (Start Date)
Date Range for Data Collection (End Date)
Digital Object Identifier
Collection