An Atlantic Jewish Republic of Letters?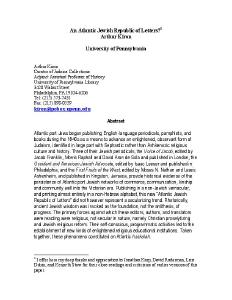 Penn collection
Scholarship at Penn Libraries
Author
Contributor
Abstract
Atlantic port Jews began publishing English-language periodicals, pamphlets, and books during the 1840s as a means to advance an enlightened, observant form of Judaism, identified in large part with Sephardic rather than Ashkenazic religious culture and history. Three of their Jewish periodicals, the Voice of Jacob, edited by Jacob Franklin, Morris Raphall and David Aron de Sola and published in London, the Occident and American Jewish Advocate, edited by Isaac Leeser and published in Philadelphia, and the First Fruits of the West, edited by Moses N. Nathan and Lewis Ashenheim, and published in Kingston, Jamaica, provide historical evidence of the persistence of Atlantic port Jewish networks of commerce, communication, kinship and community well into the Victorian era. Publishing in a non-Jewish vernacular, and printing almost entirely in a non-Hebrew alphabet, this new "Atlantic Jewish republic of letters" did not however represent a secularizing trend. Rhetorically, ancient Jewish wisdom was invoked as the foundation, not the antithesis, of progress. The primary forces against which these editors, authors, and translators were reacting were religious, not secular in nature, namely Christian proselytizing and Jewish religious reform. Their self-conscious, programmatic activities led to the establishment of new kinds of enlightened religious educational institutions. Taken together, these phenomena constituted an Atlantic haskalah.
Date Range for Data Collection (Start Date)
Date Range for Data Collection (End Date)
Digital Object Identifier
Collection