The Chinese Primary Care System: Its Evolution, Challenges and Legal Aspects of Reform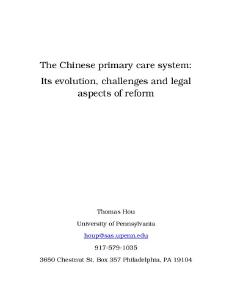 Penn collection
CUREJ - College Undergraduate Research Electronic Journal
Subject
primary care
China health reform
rule of law
administrative law
China health law
Social Sciences
Health and Societies
Arnold J. Rosoff
Rosoff
Arnold J.
Asian Studies
East Asian Languages and Societies
Health and Medical Administration
Health Law and Policy
Health Policy
International Law
International Public Health
Other Legal Studies
Public Policy
Contributor
Abstract
There has been much interest in China and abroad in the Chinese health care system and its legal system. To date, however, there has not been adequate study tying legal reform and health care reform in China. This paper seeks to bridge those disciplines by studying, for many reasons, the most crucial aspect of the Chinese health care system: the primary care system. The author examines herein recent efforts at reform in primary care, and explores some major legal and policy issues relating to both the national and local governments' efforts at reform, and also citizens' efforts using the expanding power of the legal system. For this study, the author looked at other academic and government studies on the Chinese health care system and its legal system. He also attended and reviewed presentations and interviewed professors with direct knowledge of the situation in China. The research shows that the Chinese primary care system, and in fact its entire health care system, is undergoing tremendous change and faces similar problems as the United States. National-local government differences in responsibilities might hamper efforts at reform while changes in administrative law have empowered citizens to a degree, although they still depend on the government to take action. Overall, China would likely need to find a culturally acceptable and practically workable balance between national and local power, and between governmental and citizen responsibility, in achieving health care reform.
Date Range for Data Collection (Start Date)
Date Range for Data Collection (End Date)
Digital Object Identifier
Collection