Statement of Dr. Richard M. Ingersoll, 105th Congress, Teacher Preparation and Classroom Size Reduction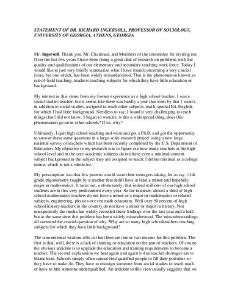 Subject
Policy and Administration
Author
Contributor
Abstract
This is a report of the problem of out-of-field teaching with federal policy recommendations presented by Dr. Ingersoll at the Congressional Hearings on Teacher Policy held in February, 1998. Brief summary included as supplemental material.
Date Range for Data Collection (Start Date)
Date Range for Data Collection (End Date)
Digital Object Identifier
Comments
Published in <em>Teacher Preparation Initiatives: Hearing Before the Committee on Education and the Workforce, House of Representatives, One Hundred Fifth Congress</em>, February 1998. <br><br> NOTE: At the time of publication, author Richard M. Ingersoll, was affiliated with the University of Georgia. Currently, October 2007, he is a faculty member in the Graduate School of Education at the University of Pennsylvania.
Collection