Lexical Acquisition as Constraint Satisfaction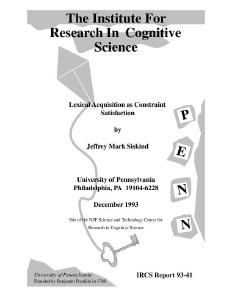 Penn collection
IRCS Technical Reports Series
Contributor
Abstract
In this paper we present a computational study of lexical acquisition. We attempt to characterize the lexical acquisition task faced by children by defining a simplified formal approximation of this task which we term the mapping problem. We then present a novel strategy for solving large instances of this mapping problem. This strategy is capable of learning the word-to-meaning mappings for as many as 10,000 words given corpora of 20,000 utterances. Such lexical acquisition is accomplished in a language independent fashion without any reference to the syntax of the language being learned.
Date Range for Data Collection (Start Date)
Date Range for Data Collection (End Date)
Digital Object Identifier
Comments
University of Pennsylvania Institute for Research in Cognitive Science Technical Report No. IRCS-93-41.
Collection