Asset Allocation within Variable Annuities: The Impact of Guarantees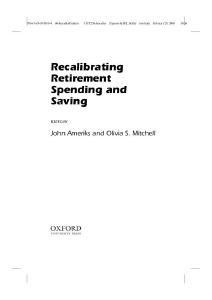 Penn collection
Wharton Pension Research Council Working Papers
Subject
variable annuities
longevity risk
equity
Economics
Contributor
Abstract
The latest generation of variable annuity contracts contains equity put options plus longevity insurance. The marketing material for these products often claims that these new riders should induce purchasers to take on more financial risk. This chapter examines whether this is indeed the case. Using a unique database, we document that policyholders do in fact adopt higher equity exposures when these riders are selected. We also examine the theoretical merits of the marketing advice, by deriving the optimal asset allocation in the presence of these guarantees. We conclude that more aggressive equity allocations can indeed be justified in many, although not all, product structures.
Date Range for Data Collection (Start Date)
Date Range for Data Collection (End Date)
Digital Object Identifier
Comments
The published version of this Working Paper may be found in the 2008 publication: Recalibrating Retirement Spending and Saving (https://pensionresearchcouncil.wharton.upenn.edu/publications/books/recalibrating-retirement-spending-and-saving/).
Collection