Forward to Special Issue of <em>Vergilius</em> on "The Vergilian Century"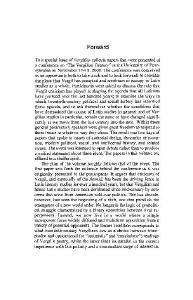 Penn collection
Departmental Papers (Classical Studies)
Subject
Arts and Humanities
Classics
Author
Contributor
Abstract
This special issue of Vergilius collects papers that were presented at a conference on "The Vergilian Century" at the University of Pennsylvania on November 17-18, 2000. The conference was conceived as an opportunity both to take stock and to look forward, to consider the place that Vergil has occupied and continues to occupy in Latin studies as a whole. Participants were asked to discuss the role that Vergil criticism has played in shaping the agenda that all Latinists have pursued over the last hundred years; to examine the ways in which twentieth-century political and social history has informed those agenda; and to ask themselves whether the conditions that have determined the course of Latin studies in general and of Vergilian studies in particular, remain the same or have changed significantly as we move from the last century into the next. Within these general parameters, speakers were given great freedom to respond to these issues in whatever way they chose. The result was two days of papers that spoke to issues of authorial design, dynamics of reception, modern political, social, and intellectual history, and related issues. The event was intended to open debate rather than to produce a unified statement about these ideas. The papers in this volume are offered in a similar spirit.
Date Range for Data Collection (Start Date)
Date Range for Data Collection (End Date)
Digital Object Identifier
Collection