Toward computer-aided forecasting systems: gathering, coding, and validating the knowledge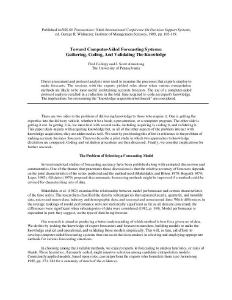 Contributor
Abstract
Direct assessment and protocol analysis were used to examine the processes that experts employ to make forecasts. The sessions with the experts yielded rules about when various extrapolation methods are likely to be most useful in obtaining accurate forecasts. The use of a computer-aided protocol analysis resulted in a reduction in the total lime required to code an expert's knowledge. The implications for overcoming the "knowledge acquisition bottleneck" are considered.
Date Range for Data Collection (Start Date)
Date Range for Data Collection (End Date)
Digital Object Identifier
Comments
Postprint version. Published in George R. Widmeyer (ed.) <em>DSS-89 Transactions: Ninth International Conference On Decision Support Systems</em>, Institute of Management Sciences, 1989, pages 103-119. The author has asserted his/her right to include this material in <em>Scholarly</em>Commons@Penn.
Collection