Computer-Assisted Writing System: Improving Readability with Respect to Information Structure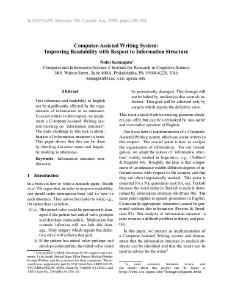 Files
Penn collection
IRCS Technical Reports Series
Subject
Information structure
text
discourse
Author
Contributor
Abstract
Text coherence and readability in English can be significantly affected by the organization of information in an utterance. To assist writers in this respect, we implement a Computer-Assisted Writing system focusing on 'information structure'. The main challenge in this task is identification of information structure in texts. This paper shows that this can be done by checking discourse status and linguistic marking in utterances.
Date Range for Data Collection (Start Date)
Date Range for Data Collection (End Date)
Digital Object Identifier
Comments
University of Pennsylvania Institute for Research in Cognitive Science Technical Report No. IRCS-98-19.
Collection