Feedback-Based Event-Driven Parts Moving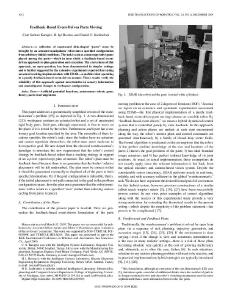 Files
Penn collection
Departmental Papers (ESE)
General Robotics, Automation, Sensing and Perception Laboratory
Kod*lab
Subject
GRASP
Kodlab
artificial potential functions
autonomous robots
game theory
parts rearrangement
Contributor
Abstract
A collection of unactuated disk-shaped "parts" must be brought by an actuated manipulator robot into a specified configuration from arbitrary initial conditions. The task is cast as a noncooperative game played among the parts—which in turn yields a feedback-based event-driven approach to plan generation and execution. The correctness of this approach, an open question, has been demonstrated in simpler settings and is further suggested by the extensive experiments reported here using an actual working implementation with EDAR—a mobile robot operating in a purely feedback-based event-driven manner. These results verify the reliability of this approach against uncertainties in sensory information and unanticipated changes in workspace configuration.
Date Range for Data Collection (Start Date)
Date Range for Data Collection (End Date)
Digital Object Identifier
Comments
Copyright 2004 IEEE. Reprinted from <i>IEEE Transactions on Robotics</i>, Volume 20, Issue 6, December 2004, pages 1012-1018. <br><br> This material is posted here with permission of the IEEE. Such permission of the IEEE does not in any way imply IEEE endorsement of any of the University of Pennsylvania's products or services. Internal or personal use of this material is permitted. However, permission to reprint/republish this material for advertising or promotional purposes or for creating new collective works for resale or redistribution must be obtained from the IEEE by writing to pubs-permissions@ieee.org. By choosing to view this document, you agree to all provisions of the copyright laws protecting it. <br><br>NOTE: At the time of publication, author Daniel Koditschek was affiliated with the University of Michigan. Currently (August 2005), he is a faculty member in the Department of Electrical and Systems Engineering at the University of Pennsylvania.
<br>Copyright 2004 IEEE. Reprinted from <i>IEEE Transactions on Robotics</i>, Volume 20, Issue 6, December 2004, pages 1012-1018. <br><br> This material is posted here with permission of the IEEE. Such permission of the IEEE does not in any way imply IEEE endorsement of any of the University of Pennsylvania's products or services. Internal or personal use of this material is permitted. However, permission to reprint/republish this material for advertising or promotional purposes or for creating new collective works for resale or redistribution must be obtained from the IEEE by writing to pubs-permissions@ieee.org. By choosing to view this document, you agree to all provisions of the copyright laws protecting it. <br><p> <br><br>NOTE: At the time of publication, author Daniel Koditschek was affiliated with the University of Michigan. Currently (June 2005), he is a faculty member in the Department of Electrical and Systems ENgineering at the University of Pennsylvania.<br><p>
Collection