Computer Architecture for Object Recognition and Sensing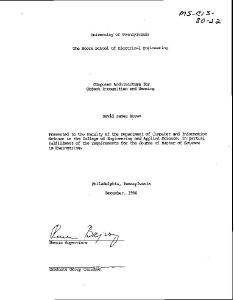 Contributor
Abstract
The notion of using many, most likely different, sensory subsystems in a computer object recognition system immediately provokes several questions: - How will multiple sensors be used in conjunction? - What object qualities are best described by which sensor, and how is sensor utilization optimized? - To what extent does the information provided by each sensor overlap with that provided by others, and how then is this used?
Date Range for Data Collection (Start Date)
Date Range for Data Collection (End Date)
Digital Object Identifier
Comments
University of Pennsylvania Department of Computer and Information Science Technical Report No. MS-CIS-80-22.
Collection