Dynamical system representation, generation, and recognition of basic oscillatory motion gestures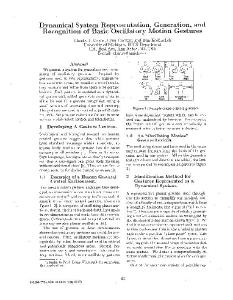 Penn collection
Departmental Papers (ESE)
General Robotics, Automation, Sensing and Perception Laboratory
Kod*lab
Contributor
Abstract
We present a system for generation and recognition of oscillatory gestures. Inspired by gestures used in two representative human-to-human control areas, we consider a set of oscillatory motions and refine from them a 24 gesture lexicon. Each gesture is modeled as a dynamical system with added geometric constraints to allow for real time gesture recognition using a small amount of processing time and memory. The gestures are used to control a pan-tilt camera neck. We propose extensions for use in areas such as mobile robot control and telerobotics.
Conference name
Departmental Papers (ESE)
Date Range for Data Collection (Start Date)
Date Range for Data Collection (End Date)
Digital Object Identifier
Comments
Copyright 1996 IEEE. Reprinted from <em>Proceedings of the Second International Conference on Automatic Face and Gesture Recognition</em>, 1996, pages 60-65. <br><br> This material is posted here with permission of the IEEE. Such permission of the IEEE does not in any way imply IEEE endorsement of any of the University of Pennsylvania's products or services. Internal or personal use of this material is permitted. However, permission to reprint/republish this material for advertising or promotional purposes or for creating new collective works for resale or redistribution must be obtained from the IEEE by writing to pubs-permissions@ieee.org. By choosing to view this document, you agree to all provisions of the copyright laws protecting it. <br><br>NOTE: At the time of publication, author Daniel Koditschek was affiliated with the University of Michigan. Currently, he is a faculty member in the Department of Electrical and Systems Engineering at the University of Pennsylvania.
Collection