Segmentation Given Partial Grouping Constraints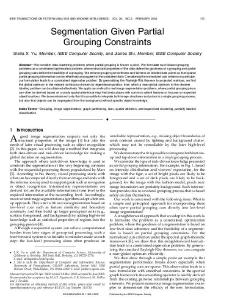 Penn collection
Departmental Papers (CIS)
Subject
Grouping
image segmentation
graph partitioning
bias
spatial attention
semisupervised clustering
partially labeled classification
Contributor
Abstract
We consider data clustering problems where partial grouping is known a priori. We formulate such biased grouping problems as a constrained optimization problem, where structural properties of the data define the goodness of a grouping and partial grouping cues define the feasibility of a grouping. We enforce grouping smoothness and fairness on labeled data points so that sparse partial grouping information can be effectively propagated to the unlabeled data. Considering the normalized cuts criterion in particular, our formulation leads to a constrained eigenvalue problem. By generalizing the Rayleigh-Ritz theorem to projected matrices, we find the global optimum in the relaxed continuous domain by eigendecomposition, from which a near-global optimum to the discrete labeling problem can be obtained effectively. We apply our method to real image segmentation problems, where partial grouping priors can often be derived based on a crude spatial attentional map that binds places with common salient features or focuses on expected object locations. We demonstrate not only that it is possible to integrate both image structures and priors in a single grouping process, but also that objects can be segregated from the background without specific object knowledge.
Date Range for Data Collection (Start Date)
Date Range for Data Collection (End Date)
Digital Object Identifier
Comments
Copyright 2004 IEEE. Reprinted from <i>IEEE Transactions on Pattern Analysis and Machine Intelligence</i>, Volume 26, Issue 2, February 2004, pages 173-183.<br> Publisher URL: <a href="http://ieeexplore.ieee.org/xpl/tocresult.jsp?isNumber=28218&puNumber=34" >http://ieeexplore.ieee.org/xpl/tocresult.jsp?isNumber=28218&puNumber=34</a> <br><br> This material is posted here with permission of the IEEE. Such permission of the IEEE does not in any way imply IEEE endorsement of any of the University of Pennsylvania's products or services. Internal or personal use of this material is permitted. However, permission to reprint/republish this material for advertising or promotional purposes or for creating new collective works for resale or redistribution must be obtained from the IEEE by writing to pubs-permissions@ieee.org. By choosing to view this document, you agree to all provisions of the copyright laws protecting it.
<br>Copyright 2004 IEEE. Reprinted from <i>IEEE Transactions on Pattern Analysis and Machine Intelligence</i>, Volume 26, Issue 2, February 2004, pages 173-183.<br> Publisher URL: http://ieeexplore.ieee.org/xpl/tocresult.jsp?isNumber=28218&puNumber=34 <br><br> This material is posted here with permission of the IEEE. Such permission of the IEEE does not in any way imply IEEE endorsement of any of the University of Pennsylvania's products or services. Internal or personal use of this material is permitted. However, permission to reprint/republish this material for advertising or promotional purposes or for creating new collective works for resale or redistribution must be obtained from the IEEE by writing to pubs-permissions@ieee.org. By choosing to view this document, you agree to all provisions of the copyright laws protecting it. <br><p>
Collection