Telecommunications in Zimbabwe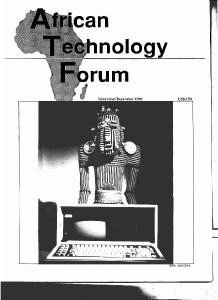 Files
Penn collection
Scholarship at Penn Libraries
Author
Contributor
Abstract
Telecommunications in many African countries is several years, perhaps decades, behind the state of the art in developed countries. In 1982, nine out of ten people in the United States owned a telephone line; in Africa, only five out of 100 did. Often, telecommunications investments are put on a lower priority at national planning levels in favor of other technologies such as electrification; advances in telecommunications are not often seen as a crucial factor in economic development. However,as the world becomes increasingly dependent on telecommunications for international economic trade and information transfer, the need for modem telecommunications capability becomes more urgent.
Date Range for Data Collection (Start Date)
Date Range for Data Collection (End Date)
Digital Object Identifier
Comments
Reprinted with permission. Reprinted from <em>African Technology Forum</em>, November 1990, pages 6-7. <br><br> NOTE: At the time of publication, the author Anu Vedantham was affiliated with the U.S. Department of Commerce. Currently, she is the Director of the Weigle Information Commons at the Penn Libraries of the University of Pennsylvania.
Collection