The Federal Institute for Access to Information in Mexico and a Culture of Transparency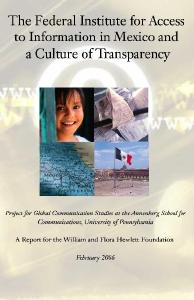 Penn collection
Other Publications from the Center for Global Communication Studies
Subject
Communication
International and Area Studies
Contributor
Abstract
In the family of freedom of information laws globally, Mexico is a leader, partly because of its Federal Institute for Access to Public Information in Mexico (IFAI) set up under the countryâ s new Transparency Law. The William
and Flora Hewlett Foundation asked an international team to study how IFAI has made a difference as the legislation furthers public understanding of government and provides for an informed citizenry. Evaluating performance was the first priority. But for an institution like IFAI to survive and flower and for it to make its greatest
contribution, it must also be perceived to be performing in accordance with legislative hopes. Two stakeholdersâ the â obligated agenciesâ or agencies covered by the underlying law and the public that uses the transparency law were canvassed as part of the study. We conducted a survey of the staff of IFAI itself as to its understanding of its role and performance. IFAI, as part of the architecture of government openness, has already contributed enormously to a culture of transparency in Mexico. That culture of transparency has contributed to undergirding democratic processes. Much of this progress is attributable to the Commissioners and staff at IFAI. They recognize, however, that there remain substantial opportunities to deepen and broaden this process. Our study seeks to make specific recommendations that will reinforce and advance what IFAI has already
accomplished.
Among IFAIâ s important mandates are: resolving appeals of a denied request under the law, training public servants as well in access to information and protection of personal data, monitoring compliance with the law, promoting and disseminating the use of the right of access to information, establishing guidelines for the management of personal data, and disseminating information about how the Transparency Law works. The study focused on these particular mandates as a basis for framing recommendations.
In particular, there is an emphasis on extending the work of IFAI to as many groups and citizens as possible to make the Transparency Law effective. This outreach must extend to public servants subject to the law and the community at large. Indeed, for a deeply ingrained, robust â culture of transparencyâ to be established in Mexico, IFAI must involve state and municipal governments to promote transparency on the local level. The Transparency Law is largely an accomplishment of the Mexican civil society that lobbied and won its passage. It is a law that stands for unprecedented public openness in Mexicoâ s history. The underlying hopes are that reach citizen throughout Mexicoâ s thirty-one states benefit, directly or indirectly, from the functioning of the transparency laws and the discipline and educative support of IFAI.
Date Range for Data Collection (Start Date)
Date Range for Data Collection (End Date)
Digital Object Identifier
Collection