More on the Reliability Function of the BSC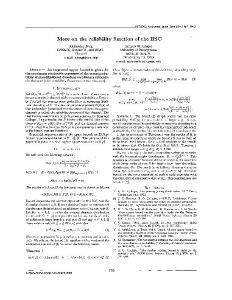 Penn collection
Departmental Papers (CIS)
Subject
Computer Sciences
Physical Sciences and Mathematics
Contributor
Abstract
An improved upper bound is given for the maximum attainable exponent of the error probability of max-likelihood decoding on a binary symmetric channel (the reliability function of the channel).
Conference name
Departmental Papers (CIS)
Date Range for Data Collection (Start Date)
Date Range for Data Collection (End Date)
Digital Object Identifier
Comments
Suggested Citation: <br> Barg, A. and A. McGregor. (2003). "More on the reliability function of the BSC." <em> Proceedings of the International Symposium on Information Theory</em> Yokohama, Japan. June 29-July 4, 2003. <br><br> ©2003 IEEE. Personal use of this material is permitted. However, permission to reprint/republish this material for advertising or promotional purposes or for creating new collective works for resale or redistribution to servers or lists, or to reuse any copyrighted component of this work in other works must be obtained from the IEEE.
Collection