Personal Attributes and the Financial Well-Being of Older Adults: The Effects of Control Beliefs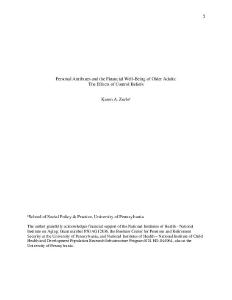 Penn collection
PARC Working Paper Series
Subject
Baby boom
Work
Health
Finances
HRS
LBQ
Demography, Population, and Ecology
Finance
Social and Behavioral Sciences
Sociology
Author
Contributor
Abstract
As the baby-boom population ages, adults are expected to take greater responsibility and control of their financial situation, but often are not equipped to assume that responsibility. This lack of control of one's finances exposes individuals to financial risk, potentially resulting in a reduced standard of living in retirement. This study explores the relationship between the personal attributes of older adults and their financial well-being, measured as financial satisfaction, while focusing on the mediating effects of control beliefs, defined as general sense of control and domain-specific levels of control related to work, health, and finances. Responses from two components of the Health and Retirement Study (HRS), the core survey and a psychosocial leave-behind questionnaire (LBQ) administered in 2006, were merged and used to test a mediation model. Using a series of regression analyses and a sample of approximately 7400 adults, aged 51 and greater, the findings provide some support of the four hypothesized models. The results of this study indicate that general sense of control and domain-specific control beliefs have a comparable influence on the relationship between personal attributes and the financial satisfaction of the older adult population.
Date Range for Data Collection (Start Date)
Date Range for Data Collection (End Date)
Digital Object Identifier
Comments
Zurlo, Karen A. 2009. "Personal Attributes and the Financial Well-Being of Older Adults: The Effects of Control Beliefs." PARC Working Paper Series, WPS 09-03.
Collection