Why Some Schools Have More Underqualified Teachers Than Others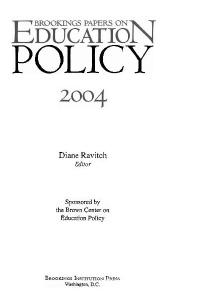 Subject
Policy and Administration
Author
Contributor
Abstract
The failure to ensure that the nation's classrooms are all staffed with qualified schoolteachers is one of the most important problems in contemporary American education. Over the past two decades, dozens of reports and national commissions have focused attention on this problem, and, in turn, numerous reforms have been initiated to upgrade the quality and quantity of the teaching force.
Date Range for Data Collection (Start Date)
Date Range for Data Collection (End Date)
Digital Object Identifier
Comments
Reprinted from <em>Brookings Papers on Education Policy, 2004</em>, edited by Diane Ravitch (Washington: Brookings Institution Press, 2004), pages 45-88.<br> <br> The author, Dr. Richard M. Ingersoll, asserts his right to include this material in ScholarlyCommons@Penn.
Collection