The Logic of Sanctioning Welfare Recipients: An Empirical Assessment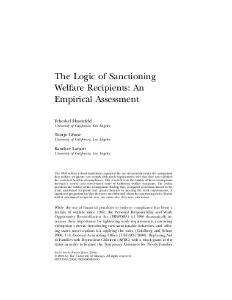 Files
Penn collection
Departmental Papers (SPP)
Contributor
Abstract
The 1996 welfare reform legislation expanded the use of sanctions under the assumption that welfare recipients can comply with work requirements and that they can calculate the costs and benefits of compliance. This research tests the validity of these assumptions through a record- and survey-based study of California welfare recipients. The article questions the validity of the assumptions, finding that, compared to nonsanctioned recipients, sanctioned recipients face greater barriers to meeting the work requirements. A significant proportion say that they were not informed about the sanctioning rules. Almost half of sanctioned recipients were not aware that they were sanctioned.
Date Range for Data Collection (Start Date)
Date Range for Data Collection (End Date)
Digital Object Identifier
Comments
Copyright The University of Chicago Press. Reprinted from <em>Social Service Review</em>, Volume 78, Issue 2, June 2004, pages 304-319.<br> NOTE: At the time of publication, author Toorjo Ghose was affiliated with the University of California. Currently, July 2007, he is a faculty member in the School of Social Policy and Practice at the University of Pennsylvania.
Collection