Trends in International Education: New Imperatives in Academic Librarianship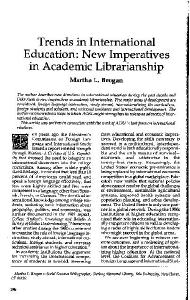 Penn collection
Scholarship at Penn Libraries
Author
Contributor
Abstract
The author describes new directions in international education during the past decade and links them to new imperatives in academic librarianship. Five major areas of development are considered: foreign language instruction, study abroad, internationalizing the curriculum, foreign students and scholars, and technical assistance and international development. The author recommends six ways in which ACRL might strengthen its role as an advocate of international education. This article was written in connection with the work of ACRL's task force on international relations.
Date Range for Data Collection (Start Date)
Date Range for Data Collection (End Date)
Digital Object Identifier
Comments
© Copyright 1990 American Library Association. This document may be reprinted and distributed for non-commercial and educational purposes only, and not for resale. No resale use may be made of material on this web site at any time. All other rights reserved. Reprinted from <em>College and Research Libraries</em>, Volume 51, Issue 3, May 1990, pages 190-206.<br> Publisher URL: http://hdl.library.upenn.edu/1017/1545 <br><br>NOTE: At the time of publication, the author Martha L. Brogan was affiliated with Yale University. Currently June 2007, she is Associate University Librarian for Collection Development and Management at the University of Pennsylvania.
Collection