Relevant Deconvolution For Acoustic Source Estimation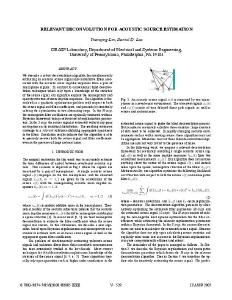 Files
Penn collection
Departmental Papers (ESE)
General Robotics, Automation, Sensing and Perception Laboratory
Contributor
Abstract
We describe a robust deconvolution algorithm for simultaneously estimating an acoustic source signal and convolutive filters associated with the acoustic room impulse responses from a pair of microphone signals. In contrast to conventional blind deconvolution techniques which rely upon a knowledge of the statistics of the source signal, our algorithm exploits the nonnegativity and sparsity structure of room impulse responses. The algorithm is formulated as a quadratic optimization problem with respect to both the source signal and filter coefficients, and proceeds by iteratively solving the optimization in two alternating steps. In the H-step, the nonnegative filter coefficients are optimally estimated within a Bayesian framework using a relevant set of regularization parameters. In the S-step, the source signal is estimated without any prior assumption on its statistical distribution. The resulting estimates converge to a relevant solution exhibiting appropriate sparseness in the filters. Simulation results indicate that the algorithm is able to precisely recover both the source signal and filter coefficients, even in the presence of large ambient noise.
Conference name
Departmental Papers (ESE)
Date Range for Data Collection (Start Date)
Date Range for Data Collection (End Date)
Digital Object Identifier
Comments
Copyright 2005 IEEE. Reprinted from <em>Proceedings of the IEEE International Conference on Acoustics, Speech and Signal Processing 2005 (ICASSP 2005)</em>, Volume 5, pages 529-532. <br><br> This material is posted here with permission of the IEEE. Such permission of the IEEE does not in any way imply IEEE endorsement of any of the University of Pennsylvania's products or services. Internal or personal use of this material is permitted. However, permission to reprint/republish this material for advertising or promotional purposes or for creating new collective works for resale or redistribution must be obtained from the IEEE by writing to pubs-permissions@ieee.org. By choosing to view this document, you agree to all provisions of the copyright laws protecting it.
Collection