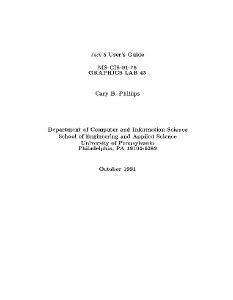 Contributor
Abstract
This chapter is a brief tutorial introduction to using Jack. It demonstrates some of the basic Jack features, illustrating mostly the flavor of how you interact with Jack rather than describing the details of how to use it. The first time you run Jack, you should go through the examples in this chapter. From then on, refer to the later chapters for more details about the various features.
Date Range for Data Collection (Start Date)
Date Range for Data Collection (End Date)
Digital Object Identifier
Comments
University of Pennsylvania Department of Computer and Information Science Technical Report No. MS-CIS-91-78.
Collection