Distant Music: Delivering Audio over the Internet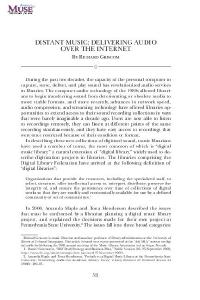 Penn collection
Scholarship at Penn Libraries
Subject
digital audio
streaming audio
Author
Contributor
Abstract
Advances in audio technology in the 1980s and 1990s made it possible for librarians to create digital copies of sound recordings and to provide off-site access to them through streaming-media servers. Because streaming technology could accommodate heavy use at odd hours from any location, librarians quickly applied the new digital audio technologies to curricular listening assignments, providing a parallel to the print "e-reserves" projects developed by academic libraries during the 1990s. The results of a survey of thirty-nine digital audio reserves projects offers information on streaming formats, streaming rates, access control, user interfaces, staffing, equipment, and costs.
Date Range for Data Collection (Start Date)
Date Range for Data Collection (End Date)
Digital Object Identifier
Comments
Published in <em>Notes,</em> Volume 59, Number 3, March 2003, pages 521-541.<br> The author has asserted his right to include this material in <em>Scholarly</em>Commons@Penn.<br><br>NOTE: At the time of publication, author Richard Griscom was affiliated with the University of Illlinois at Urbana-Champaign. In June 2004, he joined the staff of the University Library at the University of Pennsylvania.
Collection