Abnormal Accruals in Newly Public Companies: Opportunistic Misreporting or Economic Activity?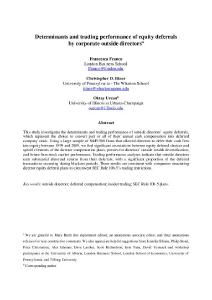 Subject
misreporting
earnings management
financial reporting quality
accruals
incentives
insider trading
initial public offering
new issues puzzle
investment
Accounting
Business Administration, Management, and Operations
Contributor
Abstract
Newly public companies tend to exhibit abnormally high accruals in the year of their initial public offering (IPO). Although the prevailing view in the literature is that these accruals are caused by opportunistic misreporting, we show that these accruals do not appear to benefit managers and instead result from the normal economic activity of newly public companies. In particular, and in contrast to the notion that managers benefit from inflating accruals through an inflated issue price, inflated post-IPO equity values, and increased insider trading profits, we find no evidence of a relation between abnormal accruals and these outcomes. Instead, consistent with these accruals resulting from normal economic activity, we find that these accruals are attributable to the investment of IPO proceeds in working capital and that controlling for the amount of IPO proceeds invested in working capital produces a more powerful accrual-based measure of misreporting.
Date Range for Data Collection (Start Date)
Date Range for Data Collection (End Date)
Digital Object Identifier
Collection