Posture Interpolation with Collision Avoidance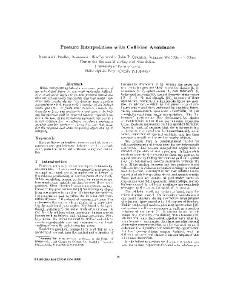 Penn collection
Center for Human Modeling and Simulation
Subject
human figure animation
motion control
posture interpolation
goal-directed behavior
collision avoidance potential fields
self-collision
computer animation
Contributor
Abstract
While interpolating between successive postures of an articulated figure is not mathematically difficult, it is much more useful to provide postural transactions that are behaviorally reasonable and that avoid collisions with nearby objects. We describe such a posture interpolator which begins with a number of pre-defined static postures. A finite state machine controls the transactions from any posture to a goal posture by finding the shortest path of required motion sequences between the two. If the motion between any two postures is not collision free, a collision avoidance strategy is invoked and the posture is changed to one that satisfies the required goal while respecting object and agent integrity.
Conference name
Center for Human Modeling and Simulation
Date Range for Data Collection (Start Date)
Date Range for Data Collection (End Date)
Digital Object Identifier
Comments
Copyright 1994 IEEE. Reprinted from <em>Proceedings of Computer Animation '94</em>, May 1994, pages 13-20. <br><br> This material is posted here with permission of the IEEE. Such permission of the IEEE does not in any way imply IEEE endorsement of any of the University of Pennsylvania's products or services. Internal or personal use of this material is permitted. However, permission to reprint/republish this material for advertising or promotional purposes or for creating new collective works for resale or redistribution must be obtained from the IEEE by writing to pubs-permissions@ieee.org. By choosing to view this document, you agree to all provisions of the copyright laws protecting it.
Collection