Cardiovascular Disease in Elders: Is It Inevitable?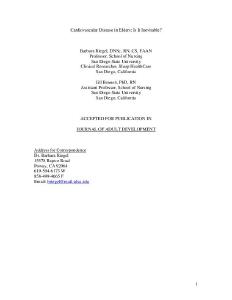 Penn collection
School of Nursing Departmental Papers
Subject
cardiovascular disease
elders
hypertension
smoking
lipids
exercise
obesity
Cardiology
Cardiovascular Diseases
Circulatory and Respiratory Physiology
Geriatrics
Medical Humanities
Medicine and Health Sciences
Nursing
Preventive Medicine
Contributor
Abstract
Cardiovascular disease is the major cause of death and disability in America. The burden of cardiovascular disease is higher in elders than in younger populations, presumably because of life-long exposure to risk factors such as hypertension, smoking, abnormal blood lipids, lack of exercise, and/or obesity. Many assume that it is too late to attempt to modify risk factors in elders because behavior is so difficult to change. The purpose of this article is to argue that cardiovascular risk factor modification is effective in elders and should be vigorously pursued for the good of individuals, families, communities, and societies.
Date Range for Data Collection (Start Date)
Date Range for Data Collection (End Date)
Digital Object Identifier
Journal title
Journal of Adult Development
Collection