Acquiring Viewpoint Aspect One Level at a Time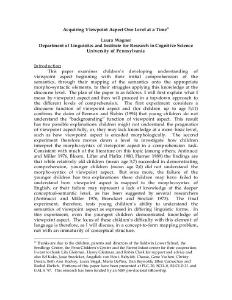 Files
Penn collection
IRCS Technical Reports Series
Contributor
Abstract
This paper examines children's comprehension of viewpoint aspect at three levels: the pragmatic, the morpho-syntactic, and the semantic. Results (1) confirm Berman and Slobin (1994)'s finding that children have not mastered the pragmatic use of backgrounding for viewpoint aspect by five years old; (2) show that children have mastered the mapping of viewpoint aspect onto the morpho-syntax of English by age 3;7; (3) show that children aged 2;6, while they behave at chance levels in the morpho-syntactic task with viewpoint aspect, nevertheless demonstrate comprehension of the semantics of viewpoint aspect as they are carried through the open-class vocabulary.
Date Range for Data Collection (Start Date)
Date Range for Data Collection (End Date)
Digital Object Identifier
Comments
University of Pennsylvania Institute for Research in Cognitive Science Technical Report No. IRCS-97-01.
Collection