Parental Education Choice: Some African American Dilemmas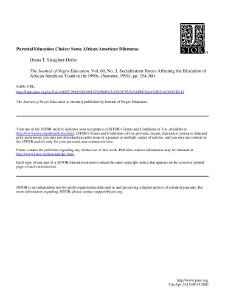 Author
Contributor
Abstract
The research literature on families and educational achievement as it addresses African American populations is uniquely characterized by attention to educational failure rather than educational success (Slaughter, Nakagawa, et al., 1990). This orientation originated over 40 years ago with the "culture-as-social-class" conceptual model, which attempts to explain the behavior of lower income African American children and families in encounters with traditional schools (e.g., Davis, 1948). Even the most progressive of contemporary models addressing families and schooling in relation to this population such as those of Ogbu (1974, 1988), Brice-Heath (1988), and Clark (1983) have been compelled to account for the educational failures of urban African American children.
Date Range for Data Collection (Start Date)
Date Range for Data Collection (End Date)
Digital Object Identifier
Comments
Permission granted from the Publisher. Reprinted from <em>The Journal of Negro Education</em>, Volume 60, Issue 3, Summer 1991, pages 354-360.<br> Publisher URL: http://www.jstor.org/journals/00222984.html <br><br> NOTE: At the time of publication, the author Diana Slaughter-Defoe was affiliated with Northwestern University. Currently March 2007, she is a faculty member of the Graduate School of Education at the University of Pennsylvania.
Collection