Interactions, Competition and Innovation in a Service-Oriented Internet: An Economic Model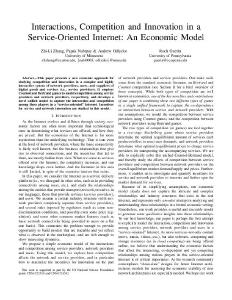 Penn collection
Departmental Papers (ESE)
Subject
Internet
service provider
network provider
competition
innovation
economic model
Digital Communications and Networking
Management Information Systems
Contributor
Abstract
This paper presents a new economic approach for studying competition and innovation in a complex and highly interactive system of network providers, users, and suppliers of digital goods and services (i.e., service providers). It employs Cournot and Bertrand games to model competition among service providers and network providers, respectively, and develops a novel unified model to capture the interaction and competition among these players in a "service-oriented" Internet. Incentives for service and network innovation are studied in this model.
Conference name
Departmental Papers (ESE)
Date Range for Data Collection (Start Date)
Date Range for Data Collection (End Date)
Digital Object Identifier
Comments
Copyright 2010 IEEE. Reprinted from:<p> "Interactions, Competition and Innovation in a Service-Oriented Internet: An Economic Model", Zhi-Li Zhang, Papak Nabipay, Andrew Odlyzko, Roch A. Guérin. IEEE INFOCOM 2010 Mini-Conference, San Diego, CA, March 2010.<p> URL: http://www.ieee-infocom.org/ <br><br> This material is posted here with permission of the IEEE. Such permission of the IEEE does not in any way imply IEEE endorsement of any of the University of Pennsylvania's products or services. Internal or personal use of this material is permitted. However, permission to reprint/republish this material for advertising or promotional purposes or for creating new collective works for resale or redistribution must be obtained from the IEEE by writing to pubs-permissions@ieee.org. By choosing to view this document, you agree to all provisions of the copyright laws protecting it.
Collection