Generation, Estimation and Tracking of Faces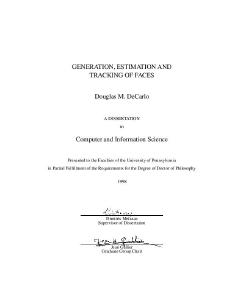 Contributor
Abstract
This thesis describes techniques for the construction of face models for both computer graphics and computer vision applications. It also details model-based computer vision methods for extracting and combining data with the model. Our face models respect the measurements of populations described by face anthropometry studies. In computer graphics, the anthropometric measurements permit the automatic generation of varied geometric models of human faces. This is accomplished by producing a random set of face measurements generated according to anthropometric statistics. A face fitting these measurements is realized using variational modeling. In computer vision, anthropometric data biases face shape estimation towards more plausible individuals. Having such a detailed model encourages the use of model-based techniques—we use a physics-based deformable model framework. We derive and solve a dynamic system which accounts for edges in the image and incorporates optical flow as a motion constraint on the model. Our solution ensures this constraint remains satisfied when edge information is used, which helps prevent tracking drift. This method is extended using the residuals from the optical flow solution. The extracted structure of the model can be improved by determining small changes in the model that reduce this error residual. We present experiments in extracting the shape and motion of a face from image sequences which exhibit the generality of our technique, as well as provide validation.
Date Range for Data Collection (Start Date)
Date Range for Data Collection (End Date)
Digital Object Identifier
Comments
University of Pennsylvania Department of Computer and Information Science Technical Report No. MS-CIS-98-36.
Collection