Brachiation on a Ladder with Irregular Intervals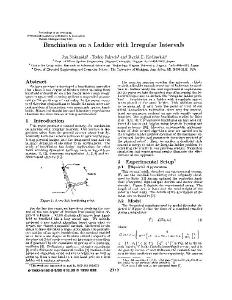 Penn collection
Departmental Papers (ESE)
General Robotics, Automation, Sensing and Perception Laboratory
Kod*lab
Contributor
Abstract
We have previously developed a brachiation controller that allows a two degree of freedom robot to swing from handhold to handhold on a horizontal ladder with evenly space rungs as well as swing up from a suspended posture using a "target dynamics" controller. In this paper, we extend this class of algorithms to handle the much more natural problem of locomotion over irregularly spaced handholds. Numerical simulations and laboratory experiments illustrate the effectiveness of this generalization.
Conference name
Departmental Papers (ESE)
Date Range for Data Collection (Start Date)
Date Range for Data Collection (End Date)
Digital Object Identifier
Comments
Copyright 1999 IEEE. Reprinted from <em>Proceedings of the 1990 IEEE International Conference on Robotics & Automation, 1999</em>, Volume 4, pages 2717 - 2722. <br><br> This material is posted here with permission of the IEEE. Such permission of the IEEE does not in any way imply IEEE endorsement of any of the University of Pennsylvania's products or services. Internal or personal use of this material is permitted. However, permission to reprint/republish this material for advertising or promotional purposes or for creating new collective works for resale or redistribution must be obtained from the IEEE by writing to pubs-permissions@ieee.org. By choosing to view this document, you agree to all provisions of the copyright laws protecting it. <br><br>NOTE: At the time of publication, author Daniel Koditschek was affiliated with the University of Michigan. Currently, he is a faculty member in the School of Engineering at the University of Pennsylvania.
Collection