Why Are Sports Team IPOs Uncommon?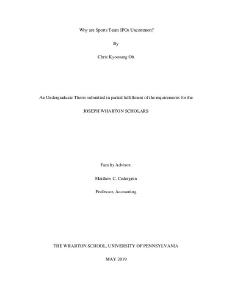 Subject
professional sports
initial public offerings
disincentives
panel data
football
Accounting
Business Administration, Management, and Operations
Corporate Finance
Finance and Financial Management
Sports Management
Author
Contributor
Abstract
This paper explored the topic of capital raising in the professional sports industry, particularly regarding the distinct lack of equity financing among professional sports teams. Therefore, the study attempts to answer the question: "why are sports team IPOs uncommon?" This paper hypothesizes that professional sports teams do not benefit from a stock market listing, discouraging private sports team owners from taking their teams public. This hypothesis is then tested through three main lenses: 1) managerial disincentives, 2) operational disincentives, and 3) financial disincentives. Reviewing the existing literature and case studies of precedent professional sports team IPOs suggest that going public induces limitations in managerial freedom due to the additionally imposed financial discipline followed by an IPO. This may hinder player investment decisions, preventing owners from realizing win-maximization and even long-term profit-maximization. The lack of flexibility is exacerbated by a mismatch in incentives given the typical profile of a professional sports team owner. Other managerial disincentives are also present. For operational and financial disincentives, the study used a unique panel dataset consisting of domestic performance data and various financial metrics and ratios of European football clubs, including those that are currently listed and delisted. The study finds that, contrary to the existing literature, there is a statistically significant positive relationship between pre- and post-IPO average points won per game in domestic league. However, the coefficient is quite small and thus the practical magnitude of the impact of an IPO to the team's match performance can be considered marginal. Furthermore, the empirical results indicate that a stock market listing helps a football club to successfully deleverage, although it has no significant impact on other key financial ratios. Listing may also potentially harm the clubs' bottom line. Meanwhile, the interaction effects assessing the role of a club's current listing status and the country in which it operates, with regard to the differences in a club's operational and financial dependent variables pre- and post-IPO, were also analyzed. In consequence, given the strong managerial disincentives with a lack of material operational and financial incentives, private sports team owners may not find stock market listing as an attractive strategic alternative for capital raising over debt financing.
Date Range for Data Collection (Start Date)
Date Range for Data Collection (End Date)
Digital Object Identifier
Collection