Defined Contribution Pension Plans in the Public Sector: A Benchmark Analysis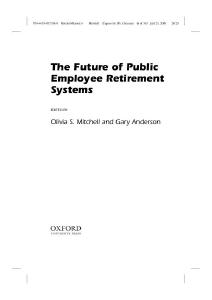 Penn collection
Wharton Pension Research Council Working Papers
Contributor
Abstract
This chapter assesses best practice benchmarks for the design of defined contribution plans in the public sector, where such plans are the primary, or core, employment-based retirement benefit. These benchmarks rely on the notion that providing an adequate and secure retirement income for participants is the primary plan objective.
Date Range for Data Collection (Start Date)
Date Range for Data Collection (End Date)
Digital Object Identifier
Comments
The published version of this Working Paper may be found in the 2009 publication: The Future of Public Employee Retirement Systems (https://pensionresearchcouncil.wharton.upenn.edu/publications/books/the-future-of-public-employee-retirement-systems/).
Collection