Chunks in PLAN: Language Support for Programs as Packets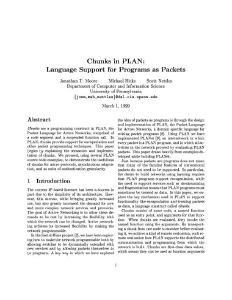 Contributor
Abstract
Chunks are a programming construct in PLAN, the Packet Language for Active Networks, comprised of a code segment and a suspended function call. In PLAN, chunks provide support for encapsulation and other packet programming techniques. This paper begins by explaining the semantics and implementation of chunks. We proceed, using several PLAN source code examples, to demonstrate the usefulness of chunks for micro-protocols, asynchronous adaptations, and as units of authentication granularity.
Date Range for Data Collection (Start Date)
Date Range for Data Collection (End Date)
Digital Object Identifier
Comments
University of Pennsylvania Department of Computer and Information Science Technical Report No. MS-CIS-99-15.
Collection