Human Robot Interaction and Usability Studies for a Smart Wheelchair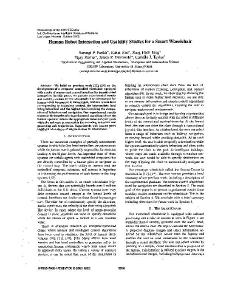 Penn collection
Departmental Papers (MEAM)
General Robotics, Automation, Sensing and Perception Laboratory
Contributor
Abstract
We build on previous work [12], [14] on the development of a computer controlled wheelchair equipped with a suite of sensors and a novel interface for human-robot interaction. In this paper, we present experimental results and usability studies for the wheelchair. The architecture for human-robot interaction is hierarchical, with the lowest level corresponding to trajectory control, the intermediate level being behavioral and the highest level involving the composition of behaviors and navigation. Our experimental results illustrate the benefits of a shared-control paradigm where the human operator selects the appropriate hehavior(s) or goals while the software is responsible for executing behaviors and generating safe trajectories. Experiments with human users highlight advantages of augmentation in wheelchairs.
Conference name
Departmental Papers (MEAM)
Date Range for Data Collection (Start Date)
Date Range for Data Collection (End Date)
Digital Object Identifier
Comments
Copyright 2003 IEEE. Reprinted from <i>Proceedings of the IEEE/RSJ International Conference on Intelligent Robots and Systems 2003 (IROS 2003)</i>, Volume 4, pages 3206-3211.<br> Publisher URL: http://ieeexplore.ieee.org/xpl/tocresult.jsp?isNumber=27971&page=1 This material is posted here with permission of the IEEE. Such permission of the IEEE does not in any way imply IEEE endorsement of any of the University of Pennsylvania's products or services. Internal or personal use of this material is permitted. However, permission to reprint/republish this material for advertising or promotional purposes or for creating new collective works for resale or redistribution must be obtained from the IEEE by writing to pubs-permissions@ieee.org. By choosing to view this document, you agree to all provisions of the copyright laws protecting it.
Collection