Communicating Shared Resources: A Model for Distributed Real-Time Systems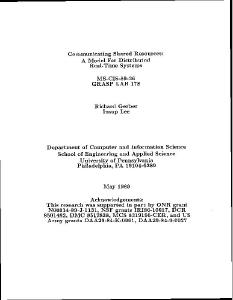 Files
Penn collection
Technical Reports (CIS)
General Robotics, Automation, Sensing and Perception Laboratory
Contributor
Abstract
The timing behavior of a real-time system depends not only on delays due to process synchronization, but also on resource requirements and scheduling. However, most real-time models have abstracted out resource-specific details, and thus assume operating environments such as maximum parallelism or pure interleaving. This paper presents a real-time formalism called Communicating Shared Resources (CSR). CSR consists of a programming language that allows the explicit expression of timing constraints and resources, and a computation model that resolves resource contention based on event priority. We provide a full denotational semantics for the programming language, grounded in our resource-based computation model. To illustrate CSR, we present a distributed robot system consisting of a robot arm and a sensor.
Date Range for Data Collection (Start Date)
Date Range for Data Collection (End Date)
Digital Object Identifier
Comments
University of Pennsylvania Department of Computer and Information Science Technical Report No. MS-CIS-89-26.
Collection