School of Veterinary Medicine
The School of Veterinary Medicine at the University of Pennsylvania was founded in 1884, and has a long-standing tradition as a global leader in veterinary medicine education, research, and clinical care, with a tradition of compassionate clinical expertise, intellectual rigor and the pursuit of innovative thinking.
Our mission at Penn Vet is to train the next generation of veterinary leaders to advance healthcare outcomes and access, ensure global health, bolster sustainable agriculture, support interdisciplinary career paths, and foster diversity, equity, and inclusion in the profession.
Search results
Now showing
1 - 10 of 114
Accelerating the Deactivation of Salmonella enterica Serovar Newport and Escherichia coli O157:H7 in Dairy Manure by Modifying pH or Temperature
2012-01-01, Toth, John D, Aceto, Helen W, Rankin, Shelley C, Toth, John D, Dou, Zhengxia, Aceto, Helen W, Rankin, Shelley C, DebRoy, Chitrita, Dou, Zhengxia
To assess methods for control of disease-causing bacteria in animal manures prior to field application, we manipulated the temperature or adjusted pH of dairy manure to high (3.5 to 5) or low (10 to 12) values with aluminum sulfate or hydrated lime, and inoculated the manure with Salmonella enterica serovar Newport or Escherichia coli O157:H7, then incubated the manure at ambient temperature. At pH 4.2, S. Newport was eliminated within 6 days; however at pH >4.2 S. Newport was suppressed only temporarily and recovered to concentrations near the unamended controls. pH required to eliminate E. coli O157:H7 was 4.5. Both pathogens were killed by pH 11.0. The pathogens were eliminated within 2 weeks when inoculated manure was incubated at 37°C, whereas at 22°C and 4°C, the organisms persisted for much longer periods. S. Newport survived for over 300 days at 4°C, which has implications for manure spreading in colder seasons.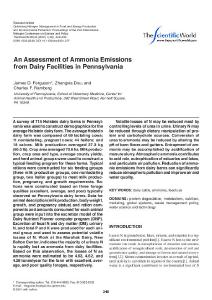 An Assessment of Ammonia Emissions from Dairy Facilities in Pennsylvania
2001-01-01, Ferguson, James D, Dou, Zhengxia, Ferguson, James D, Dou, Zhengxia, Ramberg, Charles F
A survey of 715 Holstein dairy farms in Pennsylvania was used to construct demographics for the average Holstein dairy farm. The average Holstein dairy farm was composed of 69 lactating cows; 11 nonlactating, pregnant cows; 44 heifers; and 18 calves. Milk production averaged 27.3 kg (60.0 lb). Crop area averaged 73.6 ha. Milk production, crop area and type, average county yields, and herd animal groups were used to construct a typical feeding program for these farms. Typical rations were constructed for six feeding groups (three milk production groups, one nonlactating group, two heifer groups) to meet milk production, pregnancy, and growth requirements. Rations were constructed based on three forage qualities (excellent, average, and poor) typically observed on Pennsylvania dairy farms. Data for animal description (milk production, body weight, growth, and pregnancy status) and ration components and amounts consumed for each animal group were input into the excretion model of the Dairy Nutrient Planner computer program (DNP). Excretion of fecal N and dry matter (DM), urinary N, and total P and K were produced for each animal group and used to assess potential volatile losses of N. Work at the Marshak Dairy, New Bolton Center, indicates the majority of urinary N is rapidly lost as ammonia from dairy facilities. Based on this observation, the losses of N as ammonia were estimated to be 4.63, 4.62, and 4.28 tonne/year for the farm with excellent, average, and poor quality forages, respectively. Volatile losses of N may be reduced most by controlling levels of urea in urine. Urinary N may be reduced through dietary manipulation of protein and carbohydrate sources. Conversion of urea to ammonia may be reduced by altering the pH of barn floors and gutters. Entrapment of ammonia may be accomplished by acidification of manure slurry. Atmospheric ammonia contributes to acid rain, eutrophication of estuaries and lakes, and particulate air pollution. Reduction of ammonia emissions from dairy barns can significantly reduce atmospheric pollution and improve air and water quality.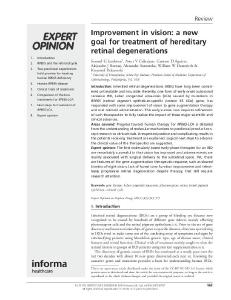 Improvement in Vision: A New Goal for Treatment of Hereditary Retinal Degenerations
2015-05-04, Jacobson, Samuel G, Cideciyan, Artur V, Jacobson, Samuel G, Cideciyan, Artur V, Aguirre, Gustavo D, Roman, Alejandro J, Sumaroka, Alexander, Hauswirth, William W, Palczewski, Krzysztof
Introduction: Inherited retinal degenerations (IRDs) have long been considered untreatable and incurable. Recently, one form of early-onset autosomal recessive IRD, Leber congenital amaurosis (LCA) caused by mutations in RPE65 (retinal pigment epithelium-specific protein 65 kDa) gene, has responded with some improvement of vision to gene augmentation therapy and oral retinoid administration. This early success now requires refinement of such therapeutics to fully realize the impact of these major scientific and clinical advances. Areas covered: Progress toward human therapy for RPE65-LCA is detailed from the understanding of molecular mechanisms to preclinical proof-of-concept research to clinical trials. Unexpected positive and complicating results in the patients receiving treatment are explained. Logical next steps to advance the clinical value of the therapeutics are suggested. Expert opinion: The first molecularly based early-phase therapies for an IRD are remarkably successful in that vision has improved and adverse events are mainly associated with surgical delivery to the subretinal space. Yet, there are features of the gene augmentation therapeutic response, such as slowed kinetics of night vision, lack of foveal cone function improvement and relentlessly progressive retinal degeneration despite therapy, that still require research attention.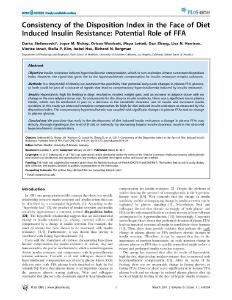 Consistency of the Disposition Index in the Face of Diet Induced Insulin Resistance: Potential Role of FFA
2011-03-30, Stefanovski, Darko, Stefanovski, Darko, Richey, Joyce M, Woolcott, Orison, Lottati, Maya, Zheng, Dan, Harrison, Lisa N, Ionut, Viorica, Kim, Stella P, Bergman, Richard N
Objective Insulin resistance induces hyperinsulinemic compensation, which in turn maintains almost a constant disposition index. However, the signal that gives rise to the hyperinsulinemic compensation for insulin resistance remains unknown. Methods In a dog model of obesity we examined the possibility that potential early-week changes in plasma FFA, glucose, or both could be part of a cascade of signals that lead to compensatory hyperinsulinemia induced by insulin resistance. Results Hypercaloric high fat feeding in dogs resulted in modest weight gain, and an increase in adipose tissue with no change in the non-adipose tissue size. To compensate for the drop in insulin sensitivity, there was a significant rise in plasma insulin, which can be attributed in part to a decrease in the metabolic clearance rate of insulin and increased insulin secretion. In this study we observed complete compensation for high fat diet induced insulin resistance as measured by the disposition index. The compensatory hyperinsulinemia was coupled with significant changes in plasma FFAs and no change in plasma glucose. Conclusions We postulate that early in the development of diet induced insulin resistance, a change in plasma FFAs may directly, through signaling at the level of β-cell, or indirectly, by decreasing hepatic insulin clearance, result in the observed hyperinsulinemic compensation.
BEST1 Gene Therapy Corrects a Diffuse Retina-Wide Microdetachment Modulated by Light Exposure
2018-03-20, Guziewicz, Karina E, Cideciyan, Artur V, Beltran, William A, Komáromy, András M, Guziewicz, Karina E, Cideciyan, Artur V, Aguirre, Gustavo D, Ruthel, Gordon, Komáromy, András M, Dufour, Valerie L, Swider, Malgorzata, Jacobson, Samuel G, Sumaroka, Alexander, Kendrick, Brian T, Ruthel, Gordon, Chiodo, Vince A, Heon, Elise, Hauswirth, William W, Jacobson, Samuel G
Mutations in the BEST1 gene cause detachment of the retina and degeneration of photoreceptor (PR) cells due to a primary channelopathy in the neighboring retinal pigment epithelium (RPE) cells. The pathophysiology of the interaction between RPE and PR cells preceding the formation of retinal detachment remains not well-understood. Our studies of molecular pathology in the canine BEST1 disease model revealed retina-wide abnormalities at the RPE-PR interface associated with defects in the RPE microvillar ensheathment and a cone PR-associated insoluble interphotoreceptor matrix. In vivo imaging demonstrated a retina-wide RPE-PR microdetachment, which contracted with dark adaptation and expanded upon exposure to a moderate intensity of light. Subretinal BEST1 gene augmentation therapy using adeno-associated virus 2 reversed not only clinically detectable subretinal lesions but also the diffuse microdetachments. Immunohistochemical analyses showed correction of the structural alterations at the RPE-PR interface in areas with BEST1 transgene expression. Successful treatment effects were demonstrated in three different canine BEST1 genotypes with vector titers in the 0.1-to-5E11 vector genomes per mL range. Patients with biallelic BEST1 mutations exhibited large regions of retinal lamination defects, severe PR sensitivity loss, and slowing of the retinoid cycle. Human translation of canine BEST1 gene therapy success in reversal of macro- and microdetachments through restoration of cytoarchitecture at the RPE-PR interface has promise to result in improved visual function and prevent disease progression in patients affected with bestrophinopathies.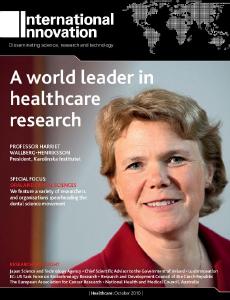 Window Into Retinal Studies
2010-10-01, Aguirre, Gustavo D, Aguirre, Gustavo D
Professor Gustavo Aguirre discusses the context of his research studies at the University of Pennsylvania, which are currently concentrating on the degenerative disease, retinitis pigmentosa.