School of Veterinary Medicine
The School of Veterinary Medicine at the University of Pennsylvania was founded in 1884, and has a long-standing tradition as a global leader in veterinary medicine education, research, and clinical care, with a tradition of compassionate clinical expertise, intellectual rigor and the pursuit of innovative thinking.
Our mission at Penn Vet is to train the next generation of veterinary leaders to advance healthcare outcomes and access, ensure global health, bolster sustainable agriculture, support interdisciplinary career paths, and foster diversity, equity, and inclusion in the profession.
Search results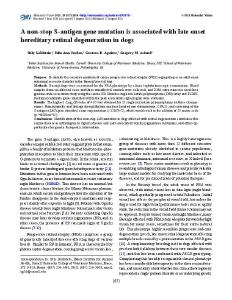 A Non-Stop S-Antigen Gene Mutation Is Associated With Late Onset Hereditary Retinal Degeneration in Dogs
2013-08-01, Aguirre, Gustavo D, Aguirre, Gustavo D, Jordan, Julie Ann, Acland, Gregory M
Purpose: To identify the causative mutation of canine progressive retinal atrophy (PRA) segregating as an adult onset autosomal recessive disorder in the Basenji breed of dog. Methods: Basenji dogs were ascertained for the PRA phenotype by clinical ophthalmoscopic examination. Blood samples from six affected cases and three nonaffected controls were collected, and DNA extraction was used for a genome-wide association study using the canine HD Illumina single nucleotide polymorphism (SNP) array and PLINK. Positional candidate genes identified within the peak association signal region were evaluated. Results: The highest -Log10(P) value of 4.65 was obtained for 12 single nucleotide polymorphisms on three chromosomes. Homozygosity and linkage disequilibrium analyses favored one chromosome, CFA25, and screening of the S-antigen (SAG) gene identified a non-stop mutation (c.1216T>C), which would result in the addition of 25 amino acids (p.*405Rext*25). Conclusions: Identification of this non-stop SAG mutation in dogs affected with retinal degeneration establishes this canine disease as orthologous to Oguchi disease and SAG-associated retinitis pigmentosa in humans, and offers opportunities for genetic therapeutic intervention.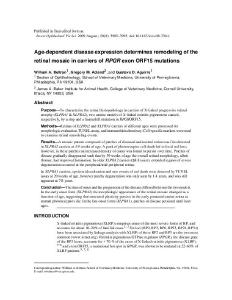 Age-Dependent Disease Expression Determines Remodeling of the Retinal Mosaic in Carriers of RPGR Exon ORFn15 Mutations
2009-08-01, Beltran, William, Aguirre, Gustavo D, Beltran, William, Aguirre, Gustavo D, Acland, Gregory M
PURPOSE. To characterize the retinal histopathology in carriers of X-linked progressive retinal atrophy (XLPRA1 and XLPRA2), two canine models of X-linked retinitis pigmentosa caused, respectively, by a stop and a frameshift mutation in RPGRORF15. METHODS. Retinas of XLPRA2 and XLPRA1 carriers of different ages were processed for morphologic evaluation, TUNEL assay, and immunohistochemistry. Cell-specific markers were used to examine retinal remodeling events. RESULTS. A mosaic pattern composed of patches of diseased and normal retina was first detected in XLPRA2 carriers at 4.9 weeks of age. A peak of photoreceptor cell death led to focal rod loss; however, in these patches an increased density of cones was found to persist over time. Patches of disease gradually disappeared so that by 39 weeks of age the overall retinal morphology, albeit thinner, had improved lamination. In older XLPRA2 carriers (≥8.8 years), extended regions of severe degeneration occurred in the peripheral/mid-peripheral retina. In XLPRA1 carriers, opsin mislocalization and rare events of rod death were detected by TUNEL assay at 20 weeks of age; however, only patchy degeneration was seen by 1.4 years and was still apparent at 7.8 years. CONCLUSIONS. The time of onset and the progression of the disease differed between the two models. In the early-onset form (XLPRA2) the morphologic appearance of the retinal mosaic changed as a function of age, suggesting that structural plasticity persists in the early postnatal canine retina as mutant photoreceptors die. In the late-onset form (XLPRA1), patches of disease persisted until later ages.
Cloning and Characterization of the cDNA Encoding the α-Subunit of cGMP-Phosphodiesterase in Canine Retinal Rod Photoreceptor Cells
1996-05-09, Aguirre, Gustavo D, Aguirre, Gustavo D, Acland, Gregory M, Ray, Kunal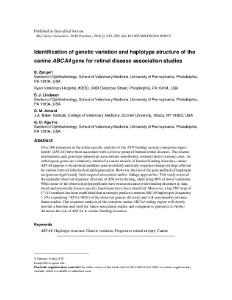 Identification of Genetic Variation and Haplotype Structure of the Canine ABCA4 Gene for Retinal Disease Association Studies
2010-10-01, Zangerl, Barbara, Aguirre, Gustavo D, Zangerl, Barbara, Aguirre, Gustavo D, Lindauer, Sarah J, Acland, Gregory M
Over 200 mutations in the retina specific member of the ATP-binding cassette transporter superfamily (ABCA4) have been associated with a diverse group of human retinal diseases. The disease mechanisms, and genotype–phenotype associations, nonetheless, remain elusive in many cases. As orthologous genes are commonly mutated in canine models of human blinding disorders, canine ABCA4 appears to be an ideal candidate gene to identify and study sequence changes in dogs affected by various forms of inherited retinal degeneration. However, the size of the gene and lack of haplotype assignment significantly limit targeted association and/or linkage approaches. This study assessed the naturally observed sequence diversity of ABCA4 in the dog, identifying 80% of novel variations. While none of the observed polymorphisms have been associated with blinding disorders to date, breed and potentially disease specific haplotypes have been identified. Moreover, a tag SNP map of 17 (15) markers has been established that accurately predicts common ABCA4 haplotypes (frequency > 5%) explaining >85% (>80%) of the observed genetic diversity and will considerably advance future studies. Our sequence analysis of the complete canine ABCA4 coding region will clearly provide a baseline and tools for future association studies and comparative genomics to further delineate the role of ABCA4 in canine blinding disorders.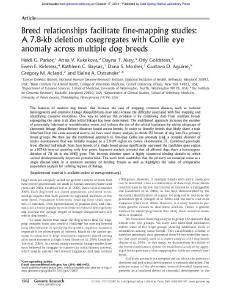 Breed Relationships Facilitate Fine-Mapping Studies: A 7.8-kb Deletion Cosegregates With Collie Eye Anomaly Across Multiple Dog Breeds
2007-10-01, Aguirre, Gustavo D, Aguirre, Gustavo D, Kukekova, Anna V, Akey, Danya T, Goldstein, Orly, Kirkness, Ewen F, Baysac, Kathleen C, Mosher, Dana S, Acland, Gregory M, Ostrander, Elaine A
The features of modern dog breeds that increase the ease of mapping common diseases, such as reduced heterogeneity and extensive linkage disequilibrium, may also increase the difficulty associated with fine mapping and identifying causative mutations. One way to address this problem is by combining data from multiple breeds segregating the same trait after initial linkage has been determined. The multibreed approach increases the number of potentially informative recombination events and reduces the size of the critical haplotype by taking advantage of shortened linkage disequilibrium distances found across breeds. In order to identify breeds that likely share a trait inherited from the same ancestral source, we have used cluster analysis to divide 132 breeds of dog into five primary breed groups. We then use the multibreed approach to fine-map Collie eye anomaly (cea), a complex disorder of ocular development that was initially mapped to a 3.9-cM region on canine chromosome 37. Combined genotypes from affected individuals from four breeds of a single breed group significantly narrowed the candidate gene region to a 103-kb interval spanning only four genes. Sequence analysis revealed that all affected dogs share a homozygous deletion of 7.8 kb in the NHEJ1 gene. This intronic deletion spans a highly conserved binding domain to which several developmentally important proteins bind. This work both establishes that the primary cea mutation arose as a single disease allele in a common ancestor of herding breeds as well as highlights the value of comparative population analysis for refining regions of linkage.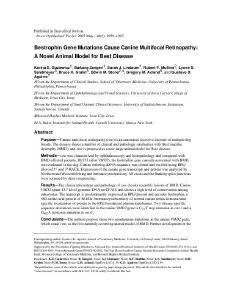 Bestrophin Gene Mutations Cause Canine Multifocal Retinopathy: A Novel Animal Model for Best Disease
2007-05-01, Guziewicz, Karina E, Zangerl, Barbara, Guziewicz, Karina E, Zangerl, Barbara, Aguirre, Gustavo D, Lindauer, Sarah J, Mullins, Robert F, Sandmeyer, Lynne S, Grahn, Bruce H, Stone, Edwin M, Acland, Gregory M
PURPOSE. Canine multifocal retinopathy (cmr) is an autosomal recessive disorder of multiple dog breeds. The disease shares a number of clinical and pathologic similarities with Best macular dystrophy (BMD), and cmr is proposed as a new large animal model for Best disease. METHODS. cmr was characterized by ophthalmoscopy and histopathology and compared with BMD-affected patients. BEST1 (alias VMD2), the bestrophin gene causally associated with BMD, was evaluated in the dog. Canine ortholog cDNA sequence was cloned and verified using RPE/choroid 5′- and 3′-RACE. Expression of the canine gene transcripts and protein was analyzed by Northern and Western blotting and immunocytochemistry. All exons and the flanking splice junctions were screened by direct sequencing. RESULTS. The clinical phenotype and pathology of cmr closely resemble lesions of BMD. Canine VMD2 spans 13.7 kb of genomic DNA on CFA18 and shows a high level of conservation among eukaryotes. The transcript is predominantly expressed in RPE/choroid and encodes bestrophin, a 580-amino acid protein of 66 kDa. Immunocytochemistry of normal canine retina demonstrated specific localization of protein to the RPE basolateral plasma membranes. Two disease-specific sequence alterations were identified in the canine VMD2 gene: a C73T stop mutation in cmr1 and a G482A missense mutation in cmr2. CONCLUSIONS. The authors propose these two spontaneous mutations in the canine VMD2 gene, which cause cmr, as the first naturally occurring animal model of BMD. Further development of the cmr models will permit elucidation of the complex molecular mechanism of these retinopathies and the development of potential therapies.