School of Social Policy & Practice
Founded as one of the nation's earliest schools of social work in the United States, the School of Social Policy & Practice (SP2) has trained social work professionals for over 110 years. In the 21st century, its scope expanded to include public policy and nonprofit leadership as natural extensions of applied social research. Today, SP2 offers masters programs in social work, public policy, and nonprofit leadership; doctoral programs in social welfare and clinical social work, and a wide range of certificate programs and specializations. The school is home to several research centers, including the Center for Carceral Communities, the Center for Guaranteed Income Research, the Center for High Impact Philanthropy, the Center for Social Impact Strategy, the Center for Social Mobility and Prosperity, the Field Center for Children's Policy, Practice and Research, and the Ortner Center on Violence and Abuse. Faculty and graduate work is rooted in social justice, community care, and advancing equity-based policies worldwide.
Search results
Now showing
1 - 10 of 469
The Invisible Epidemic: Educating Social Work Students towards Holistic Practice in a Period of Mass Incarceration
2013-05-13, james, kirk a, Ram Cnaan, Ph.D, Joretha Bourjolly, Ph.D, Carl Mazza, DSW
The Bureau of Justice Statistics (BJS) reported in 2011 that more than 2 million Americans are incarcerated. The report also indicates that 1 in 32 Americans are under some form of criminal justice supervision (parole, probation or prison), with statistics prognosticating that more than half will return to prison once released. Most of the individuals incarcerated are disproportionately poor people of color. Many have christened the period from the 1970's to present as "Mass Incarceration" (Alexander, 2010). Social Justice is often described as the "organizing value" or catalyst that drives the profession of social work. The National Association of Social Workers (NASW, 2008) Code of Ethics as well as the curriculum policy statement of the Council on Social Work Education (CSWE) mandate that social workers and schools of social work education target their efforts towards economic and social justice inclusive of at-risk populations, paying particular attention to issues of diversity and oppression. Yet it is startling that critical discourse in schools of social work pertaining to mass incarceration, is marginal, or in some cases completely absent (Cnaan, Draine, Fraizer, & Sinha, 2008; Davis, 1978; Pray, 1949; Reamer, 2004; Roberts, 1997; Scheyett, Pettus-Davis, McCarter & Brigham, 2012; Wormer, Roberts, Springer & Brownell, 2008). Through a thorough examination of the history of the U.S. criminal justice system and an analysis of both the historical and contemporary relationship of criminal justice and social work, this dissertation introduces a two-semester MSW curriculum. The curriculum infuses social work education with issues relating to mass incarceration and it's various intersections with social work practice. The first semester illuminates the historical evolution of the criminal justice system in the United States and the current state of incarceration, including punitive policies such as the Rockefeller Drug Laws, Truth in Sentencing and 3 strike legislations. The second semester highlights systemic and personal challenges to practicing within, and around the criminal justice system. The second semester pays particular attention to evidence based clinical practice theories and interventions. The curriculum utilizes the Council of Social Work Educational Policy and Accreditation Standards to create an amalgamation of clinical and macro competencies. The output is the introduction of a criminal justice infused macro history, and a micro clinical practice course to the social work pedagogy in an attempt towards holistic practice and advocacy more in line with the profession's organizing value of social justice.
Education for Social Development: Curricular Models and Issues
1994-09-01, Estes, Richard J
Education for social development is emerging as an important component of professional education in the human services. This paper identifies the underlying assumptions, knowledge base, and goals of social development practice. The paper also identifies four models of social development practice of relevance to the education of social workers for social development: the Personal Social Services Model; the Social Welfare Model; the Social Development Model; and, the New World Order Model. Eight levels of social development practice are identified as are the dominant institutional sectors within which development practice occurs. The paper also discusses organizational issues associated with the introduction of varying degrees of social development content into individual educational programs.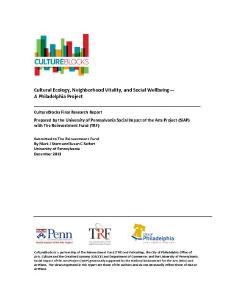 Cultural Ecology, Neighborhood Vitality, and Social Wellbeing—A Philadelphia Project
2013-12-01, Stern, Mark J, Seifert, Susan C
From 2011 to 2013, SIAP with Reinvestment Fund undertook new research that featured development of multidimensional indexes of social wellbeing for the city of Philadelphia. This report presents the results of that collaboration. Chapter 1 documents construction of a neighborhood-based social wellbeing index for the city. Chapter 2 uses the social wellbeing index to analyze patterns of advantage and disadvantage in Philadelphia neighborhoods. Chapter 3 draws on SIAP's historical data to examine changes in Philadelphia's cultural ecology between 1997 and 2012. The summary highlights how the policy tool helps conceptualize and measure culture as a dimension of social wellbeing as well as a contributor to equitable communities.
Falling Far from the Tree: Transitions to Adulthood and the Social History of Twentieth-Century America
2005-12-01, Stanger-Ross, Jordan, Collins, Christina, Stern, Mark J
Employing the Integrated Public Use Microdata Series of the University of Minnesota, we chronicle the changing timing and duration of transitions to adulthood in the twentieth century. Successive generations of young Americans reinvented the transition to adulthood to accommodate shifts in the economy and the American state. The patterned choices of young people delineate three eras of social history in the twentieth century: the era of reciprocity (1900–1950), the era of dependence (1950–70s), and the era of autonomy (1970s-2000). We also explain why African Americans differed from the general trend; they developed distinctive transitions to adulthood in response to persistent inequality.
Beyond the Loss of a Child in the NICU: The Social Worker's Role
2017-08-04, Quann-Walker, Anniesha D, Dr. Carolyn Walter, Dr. Aileen McCabe-Maucher
The following is a two-paper dissertation exploring the role of social workers in the Neonatal Intensive Care Unit (NICU). The classical and contemporary perspectives of grief theory provide the framework for understanding emotional responses of bereaved parents to the death of a child. The academic social work, medical, and nursing literature reviewed support the hypothesis that social workers are an insufficiently tapped resource in working with bereaved parents who have experienced perinatal loss in the NICU and revealed contributing factors for current medical social work practices. The accompanying article discusses the role of social workers and the areas that demonstrate their expertise. The article also conceptualizes the design of a bereavement program for perinatal loss using the established adult and pediatric hospice and palliative care models. This dissertation contributes to social work practice in the NICU and grief literature knowledge base by acknowledging the disenfranchisement of bereaved parents who have experienced perinatal loss in the NICU, supporting collaborations with other professionals on the NICU interdisciplinary team, and proposing a prospectus program design.
The Life Stories of Individuals Who as Adults Were Identified as Experiencing the Effects of Fetal Alcohol Spectrum Disorder
2015-05-18, Erb, Anna CK, Jeffrey Applegate, Ph.D., Deborah Rutman, Ph.D., Robert Carey, Psy. D.
The teratogenic effects of prenatal alcohol exposure (PAE) can cause irreversible physical and neurological impairments that are present at birth and can have lifelong implications (McGee & Riley, 2007). One's capacity to interact productively and effectively with one's surroundings can be influenced further by positive and negative life events and access to appropriate social support services (Center for Disease Control and Prevention, 2004). Fetal Alcohol Spectrum Disorder (FASD) is a term used to describe a group of diagnoses and effects related to prenatal alcohol exposure (Center for Disease Control and Prevention, 2004). Since the effects of alcohol on a fetus were not recognized formally until the mid- twentieth century, it is likely there are generations of people who are affected by this condition but remain unidentified because they were born before the sequelae of gestational alcohol exposure were understood and well documented (Massey, 2011). Few scholarly works exist that accurately represent the subjective experience of adults who have lived with the unidentified characteristics of prenatal alcohol exposure and the social and cultural factors that influence the development of their individual identity. A narrative-style qualitative research methodology was used to explore the identity of adults living with FASD, in particular those who learned about this during adulthood. The researcher interviewed four adults living with the effects of FASD who became aware of their FASD as adults and reviewed several published autobiographical accounts as additional data sources. Upon analysis, themes of identity emerged and parallels between the life stories of the participants and other studies that address the psycho-social effects of FASD were identified. The research results suggest implications for social work practice, bring positive attention to a disenfranchised group, identify areas of needed study and shed insight into how adults living with the effects of FASD conceptualize their identity.