Perelman School of Medicine
Perelman School of Medicine's mission is to advance knowledge and improve health through research, patient care, and the education of trainees in an inclusive culture that embraces diversity, fosters innovation, stimulates critical thinking, supports lifelong learning, and sustains our legacy of excellence.
Search results
Now showing
1 - 10 of 140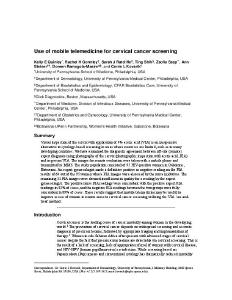 Use of Mobile Telemedicine for Cervical Cancer Screening
2011-06-01, Quinley, Kelly E, Gormley, Rachel H, Ratcliffe, Sarah, Shih, Ting, Szep, Zsofia, Steiner, Ann, Ramogola-Masire, Doreen, Kovarik, Carrie
Visual inspection of the cervix with application of 4% acetic acid (VIA) is an inexpensive alternative to cytology-based screening in areas where resources are limited, such as in many developing countries. We have examined the diagnostic agreement between off-site (remote) expert diagnosis using photographs of the cervix (photographic inspection with acetic acid, PIA) and in-person VIA. The images for remote evaluation were taken with a mobile phone and transmitted by MMS. The study population consisted of 95 HIV-positive women in Gaborone, Botswana. An expert gynaecologist made a definitive positive or negative reading on the PIA results of 64 out of the 95 women whose PIA images were also read by the nurse midwives. The remaining 31 PIA images were deemed insufficient in quality for a reading by the expert gynaecologist. The positive nurse PIA readings were concordant with the positive expert PIA readings in 82% of cases, and the negative PIA readings between the two groups were fully concordant in 89% of cases. These results suggest that mobile telemedicine may be useful to improve access of women in remote areas to cervical cancer screening utilizing the VIA `see-andtreat' method.
Study Protocol: Implementation of a Computer-Assisted Intervention for Autism in Schools: A Hybrid Type II Cluster Randomized Effectiveness-Implementation Trial
2016-01-01, Pellecchia, Melanie, Beidas, Rinad S, Marcus, Steven C, Fishman, Jessica, Kimberly, John R., Cannuscio, Carolyn C, Reisinger, Erica M, Rump, Keiran, Mandell, David S
Background: The number of children diagnosed with autism has rapidly outpaced the capacities of many public school systems to serve them, especially under-resourced, urban school districts. The intensive nature of evidence-based autism interventions, which rely heavily on one-to-one delivery, has caused schools to turn to computer-assisted interventions (CAI). There is little evidence regarding the feasibility, effectiveness, and implementation of CAI in public schools. While CAI has the potential to increase instructional time for students with autism, it may also result in unintended consequences such as reduction in the amount of interpersonal (as opposed to computerized) instruction students receive. The purpose of this study is to test the effectiveness of one such CAI—TeachTown—its implementation, and its effects on teachers' use of other evidence-based practices. Methods:This study protocol describes a type II hybrid cluster randomized effectiveness-implementation trial. We will train and coach 70 teachers in autism support classrooms in one large school district in the use of evidence-based practices for students with autism. Half of the teachers then will be randomly selected to receive training and access to TeachTown: Basics, a CAI for students with autism, for the students in their classrooms. The study examines: (1) the effectiveness of TeachTown for students with autism; (2) the extent to which teachers implement TeachTown the way it was designed (i.e., fidelity); and (3) whether its uptake increases or reduces the use of other evidence-based practices. Discussion: This study will examine the implementation of new technology for children with ASD in public schools and will be the first to measure the effectiveness of CAI. As importantly, the study will investigate whether adding a new technology on top of existing practices increases or decreases their use. This study presents a unique method to studying both the implementation and exnovation of evidence-based practices for children with autism in school settings. Trial registration: NCT02695693. Retrospectively registered on July 8, 2016.
Guatemala & the University of Pennsylvania: Meeting in the Middle
2013-01-01, Barg, Frances K, Weiss, Eve, Branas, Charles
The GUATEMALA-PENN relationship is a partnership that is borne from more than a century of research, service and scholarship. Our goal, with this book and with our programs, is to grow this partnership based upon the reciprocal needs of our Guatemalan stakeholders and the mission of the university. Guatemala is only one country away from the US. Our shared heritage and joint economic and social interests make it critical to foster a strong and mutually beneficial relationship between our two countries. Our connections have evolved over time in response to new knowledge gained about each other. This book is a testament to our collective past, present and future. For more information or to donate visit: http://www.med.upenn.edu/globalhealth/guatemalapartners.shtml
2015-01-01, Center for Public Health Initiatives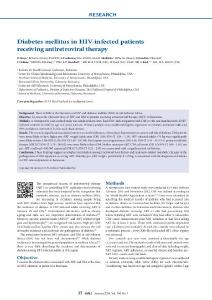 Diabetes Mellitus in HIV-Infected Patients Receiving Antiretroviral Therapy
2013-10-11, Moyo, D, Tanthuma, G, Mushisha, O, Kwadiba, G, Chikuse, F, Cary, Mark S, Steenhoff, Andrew P, Reid, Michael J. A
Background. There is little in the literature on HIV and diabetes mellitus (DM) in sub-Saharan Africa. Objective. To assess the characteristics of HIV and DM in patients receiving antiretroviral therapy (ART) in Botswana. Methods. A retrospective case-control study was conducted at 4 sites. Each HIV-infected patient with DM (n=48) was matched with 2 HIV-infected controls (n=108) by age (±2 years) and sex. Primary analysis was conditional logistic regression to estimate univariate odds and 95% confidence intervals (CIs) for each characteristic. Results. There was no significant association between co-morbid diseases, tuberculosis, hypertension or cancer and risk of diabetes. DM patients were more likely to have higher pre-ART weight (odds ratio (OR) 1.09; 95% CI 1.04 - 1.14). HIV-infected adults >70 kg were significantly more likely to have DM (OR 12.30; 95% CI 1.40 - 107.98). Participants receiving efavirenz (OR 4.58; 95% CI 1.44 - 14.57) or protease inhibitor therapy (OR 20.7; 95% CI 1.79 - 240.02) were more likely to have DM. Neither mean pre-ART CD4 cell count (OR 1.0; 95% CI 0.99 - 1.01) nor pre-ART viral load >100 000 copies/ml (OR 0.71; 95% CI 0.21 - 2.43) were associated with a significant risk of diabetes. Conclusions. These findings suggest a complex interrelation among traditional host factors and treatment-related metabolic changes in the pathogenesis of DM inpatients receiving ART. Notably, pre-ART weight, particularly if >70 kg, is associated with the diagnosis of diabetes in HIV-infected patients in Botswana.
Cognitive-Behavioral Treatment of Anxious Youth with Comorbid School Refusal: Clinical Presentation and Treatment Response
2010-01-01, Beidas, Rinad S, Crawley, Sarah A, Mychailyszyn, Matthew P, Comer, Jonathan S, Kendall, Phillip C
The present study investigated the effectiveness of cognitive-behavioral therapy in youth (N = 27) diagnosed with a principal anxiety disorder and school refusal (SR; denial to attend school or difficulty remaining in school). Scant research examines the effectiveness of cognitive-behavioral therapy for treatment-seeking youth with a primary anxiety disorder and comorbid SR. Effects for youth who completed treatment (N = 12) ranged from d = .61 to 2.27 based on youth- and parent-reported anxiety and depressive symptoms, as well as independently rated global functioning. A discussion of treatment drop-out, a case illustration, and treatment recommendations are provided.