Search results
Now showing
1 - 10 of 195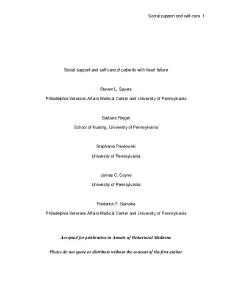 Social Support and Self-Care of Patients with Heart Failure
2008-02-20, Riegel, Barbara, Riegel, Barbara, Pawlowski, Stephanie, Coyne, James C, Samaha, Frederick F
Background Social support can influence treatment adherence of patients with chronic illnesses, which may explain the positive effects of social support on heart failure (HF) outcomes. Purpose To investigate the effects of social support among patients with HF, we examined whether aspects of social support were associated with self-care, including medication adherence, dietary adherence, and HF symptom monitoring functions. Methods We recruited 74 patients with HF from cardiology clinics of a Veterans Affairs Medical Center and a university-affiliated hospital, and tested the relationships between social support and the patients' self-care. Results Consistent with previous research in older adults, family members, especially spouses, were often involved in the medical care of patients with chronic HF and provided a range of levels of support to patients. Self-care was generally poor, as measured across several self-care domains. Perceived social support was moderately associated with relatively better self-reported medication and dietary adherence, and other aspects of self-care such as daily weighing. Conclusions These findings suggest that a relatively higher level of self-care is an important correlate of social support and may explain how social support influences HF outcomes. This study also suggests that family members should play a greater part in clinical care focused on improving self-care.
World Health Organizations Surgical Safety Checklist Project
2018-12-02, Lyons, Amber, Lyons, Amber
Medical error, especially in the operating room, claims the lives of patients and contributes to complications. A project was conducted to investigate the effectiveness of the World Health Organizations Surgical Safety Checklist. Communication, teamwork, and the readiness of use by the operating room team was measured. The project design was descriptive utilizing the Surgical Safety Checklist and a modified version of the Safety Attitudes Questionnaire Operating Room. Post-implementation responses to the Safety Attitudes Questionnaire Operating Room survey revealed a significant improvement in the surgical teams' perception of teamwork and communication. Results show the World Health Organizations Surgical Safety Checklist improves teamwork and communication, and improves awareness of patient safety factors when consistently implemented before each operation.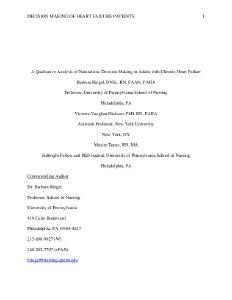 Qualitative Analysis of Naturalistic Decision Making in Adults with Chronic Heart Failure
2013-03-01, Riegel, Barbara, Riegel, Barbara, Dickson, Victoria V, Topaz, Maxim
Background: Self-care of heart failure has been described as a naturalistic decision-making process, but the data available to defend this description are anecdotal. Objectives: The aim of this study was to explore the process used by adults with chronic heart failure to make decisions about their symptoms. Methods: This was a secondary analysis of data obtained from four mixed methods studies. The full data set held qualitative data on 120 adults over the age of 18 years. For this analysis, maximum variation sampling was used to purposively select a subset of 36 of the qualitative interviews to reanalyze. Results: In this sample, equally distributed by gender, 56% Caucasian, between 40 and 98 years, the overarching theme was that decisions about self-care reflect a naturalistic decision-making process with components of situation awareness with mental simulation of a plausible course of action and an evaluation of the outcome of the action. In addition to situation awareness and mental simulation, three key factors were identified as influencing self-care decision making: (a) experience; (b) decision characteristics such as uncertainty, ambiguity, high stakes, urgency, illness, and involvement of others in the decision-making process; and (c) personal goals. Discussion: These results support naturalistic decision making as the process used by this sample of adults with heart failure to make decisions about self-care.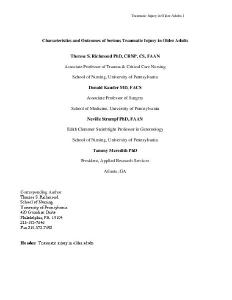 Characteristics and Outcomes of Serious Traumatic Injury in Older Adults
2002-02-01, Richmond, Therese S, Richmond, Therese S, Kauder, Donald R, Strumpf, Neville, Meredith, Tammy
Objectives: The aims were to: 1) describe the seriously injured older adult; 2) characterize and compare the differences in injury characteristics and outcomes in three subgroups of seriously injured older adults: 65-74 years, 75-84 years, and >85 years of age; 3) identify risk factors for death, complications, and discharge placement at hospital discharge. Design: A retrospective secondary analysis of a statewide trauma data set from 1988-1997. Setting: Data submitted from all designated trauma centers in Pennsylvania. Participants: The data set yielded 38,707 patients with a mean age of 77.5 years with serious injury (mean number of injuries = 3.6, mean number of body systems involved = 2). Measurements: Key outcomes were mortality, complications, and discharge placement. Abbreviated Injury Score categorized injuries and Injury Severity Score (ISS) quantified anatomic severity of injury. Results: Mortality was 10%. Mean length of stay 11.5 days. 52.2% of survivors were discharged home and 25.4% to a skilled nursing facility. Injury severity, total number of injuries, complications and increasing age were predictors of mortality (p<.01). The presence of pre-existing co-morbid medical conditions increased the odds of experiencing a complication over three-fold. Increasing age, total number of injuries, injury to extremities or abdominal contents, injuries due to falls, and lower functional level predicted discharge to a skilled nursing facility (p<.01). Conclusions: Traumatic injury in older adults are typically multisystem, life-threatening, and affects older adults of all ages. The standard ISS does not fully capture the potential for mortality in older adults and does not predict discharge placement. The majority of older adults survive multisystem injury. Our findings indicate the need to examine outcomes beyond mortality and to make the identification and management of co-morbid conditions a priority. A geriatric consultation service could be an important additional to the interdisciplinary trauma team.
Implementing and Evaluating a Sepsis Algorithm to Mitigate Acute Care Readmissions in an Inpatient Rehabilitation Facility
2020-12-28, Lockett, Michelle L, Lockett, Michelle L
BACKGROUND: Readmissions from post-acute care to acute care hospitals is well documented in the literature. Inadequate management of infection is a top readmission diagnosis and is often preventable. Nurse driven, protocolized treatment is the gold standard for treating sepsis patients in post and acute care settings. A quality improvement (QI) project was implemented in a 58-bed inpatient rehabilitation facility (IRF) to determine if a nurse-driven sepsis algorithm would decrease readmission rates to acute care hospitals, increase nursing staff sepsis knowledge, clinical confidence and communication. METHODS: This QI project was performed during a 3-month period in 2020. Readmission findings were compared before and after the study intervention implementation. Changes overtime in sepsis frequency were assessed through run charts. Pre- and post- survey data of sepsis knowledge, clinical confidence caring for a sepsis patient and care provider and clinician communication was assessed using a Wilcoxon Signed Rank Test. INTERVENTION: By utilizing the Systemic Inflammatory Response (SIRs) criteria, the Situation, Background, Assessment and Recommendation (SBAR) tool and Surviving Sepsis Campaign guidelines, a nurse driven sepsis algorithm was created and implemented in the rehabilitation facility. Additionally, pre-and post-surveys were administered to assess nurses' knowledge of sepsis, clinical confidence in caring for a patient with suspected sepsis and bedside clinician to provider communication. RESULTS: Results show a decrease in readmissions to acute care hospitals post intervention but no statistically significant change in pre-post survey of sepsis knowledge, confidence or communication. CONCLUSIONS: An additional PDSA cycle of this QI project is needed to determine a true sepsis decrease overtime using the sepsis algorithm. A sepsis pre and post-test, and role play simulations may be key to a change in sepsis knowledge, confidence and communication. Keywords: inpatient rehabilitation facility, IRF, readmissions, sepsis, infection, surviving sepsis campaign, algorithm
Palliative Care: Is Now the Time?
2018-01-02, Riegel, Barbara, Riegel, Barbara, Kimmel, Stephen E
Palliative care is an approach that focuses on optimizing quality of life for patients and families affected by serious illness, regardless of prognosis. It comprises pain and symptom management; psychological, spiritual, and social support; assistance with treatment decision-making; and complex care coordination. Mounting evidence indicates that palliative care reduces symptom burden, improves mood, decreases healthcare utilization, and improves quality of life for both patients with end-stage heart disease and their caregivers. Indeed, there is a consensus among major clinical guidelines of the importance of early integration of palliative care as an essential component of high quality care for patients with heart failure, a growing use of palliative care in patients with end-stage heart disease, and a clear desire of patients for such care.