Penn Nursing
Penn Nursing is built on a bedrock of doing more. Doing more—as clinicians—to save patients at the bedside. Doing more—as scientists—to solve unsolvable challenges. Doing more—as activists, policy makers, and leaders—to make high quality health and wellness care more accessible in our communities.
Penn Nursing has the number one undergraduate nursing program in the country, is the number one nursing school in the world, and has multiple number one and top-rated master's programs in the U.S. Penn Nursing experts and leaders have been advancing science and delivering solutions, shaping policy and practice, and engaging communities to promote health for over a century.
Search results
The evolving nursing scholarliness
1983, Meleis, Afaf I, Meleis, Afaf I
The thesis of this discussion is that nursing is involved in a scholarly evolution, that this evolution has properties and norms that have evolved from previous stages of development, and that every previous stage had a major contribution leading to our current evolution. The discussion is based on the premise that a reflective stance and self-analysis are essential to growth and development and that meaning and ideas are enhanced when one is able to trace their origins, the problems that motivated their development, the conceptualizations to which they relate, and the knowledge of how one intellectual tradition grows from another. Progress in nursing theory is a most significant aspect of this scholarly evolution and a cornerstone of the discipline of nursing. It behooves us, therefore, to review the events that influenced the current stage of nursing scholarliness and the contributions of nursing theory to it. In its search for professional identity and meaning, nursing has proceeded through several stages. Self-analysis and evaluation and the view and status accorded nursing in our patriarchal society made it appear as if each successive stage was a deviation from the goal of establishing the discipline of nursing. But in essence each stage has sharpened and clarified the dimensions needed for establishing the scientific discipline, prompting or leading to the scholarly evolution in nursing.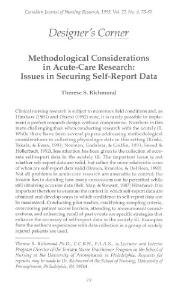 Methodological Considerations in Acute-Care Research: Issues in Securing Self-Report Data
1995, Richmond, Therese S, Richmond, Therese S
Conducting research in the acutely ill and injured is important to broaden the scientific foundation of nursing practice for the specialty. Given the nature of acute illness, challenges to the collection of self-report data are numerous, but they are not insurmountable. Attending to these challenges and planning for strategies to enhance the accuracy of data are important tasks for any investigator considering research in groups of patients with acute illness or injury.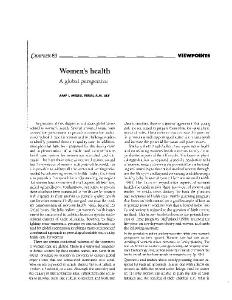 Women's health: A global perspective
1997, Meleis, Afaf Ibrahim, Meleis, Afaf Ibrahim, Aly, Ferial A.M.
The purpose of this chapter is to discuss global issues related to women's health. Several universal issues were selected for presentation to provide a context for understanding health care for women and to challenge readers to identify potential threats to quality care. In addition, principles that have been proposed for the development and implementation of a viable and comprehensive health care system for women are identified and discussed. The intent here is not to capture the situation and health experience of women in all parts of the world; nor is it possible to address all the contextual contingencies needed for addressing women's health. Rather, the intent is to provide a framework for understanding the neglect that women have encountered in all aspects of their lives, including health care. Furthermore, our aim is to provide those who have been committed to health care for women with support in their attempt to provide quality health carefor other women. Finally,our goal is to raise the readers' consciousness of women's health needs beyond the United States. We fully realize that women's health issues cannot be understood in isolation from the specific sociocultural context of their situations; however, by highlighting some universals, perhaps we can underscore the need for global cooperation in taking a more coherent and coordinated approach to providing affordable and quality health care for women.
A Delphi Study on Research Priorities for Trauma Nursing
1994-05-01, Richmond, Therese S, Richmond, Therese S, Noroian, Elizabeth L, Allen, Lois R
Objectives: To identify and prioritize research questions of importance to trauma patient care and of interest to trauma nurses. Methods: A three-round Delphi technique was used to solicit, identify, and prioritize problems for trauma nursing research. In round 1, experienced trauma nurses (N = 208) generated 513 problems, which were analyzed, categorized, and collapsed into 111 items for subsequent rounds. Round 2 participants rated each research question on a 1 to 7 scale on two criteria: impact on patient welfare and value for practicing nurses. Group median scores provided by 166 round 2 respondents and respondents' individual round 2 scores were indicated on the round 3 questionnaire. Subjects rated the questions again on the same criteria and indicated whether nurses, independently or in collaboration with other health professionals, should assume responsibility for that research. Median and mean scores and rank order were determined for each item. Results: Respondents who completed all three rounds (n = 137) had a mean of 8.3 years of trauma experience. Nine research questions ranked within the top 20 on both criteria. The two research questions that ranked highest on both criteria were: What are the most effective nursing interventions in the prevention of pulmonary and circulatory complications in trauma patients? and What are the most effective methods for preventing aspiration in trauma patients during the postoperative phase? The third-ranked question regarding patient welfare was: What psychological and lifestyle changes result from traumatic injury? Regarding value for practicing nurses, What are the most effective educational methods to prepare and maintain proficiency in trauma care providers? ranked third. Conclusion: These research priorities provide impetus and direction for nursing and collaborative investigation in trauma care.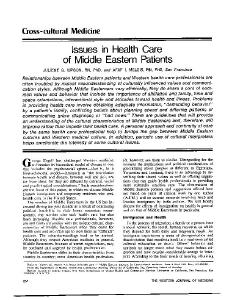 Issues in health care of Middle Eastern patients
1983-12-01, Lipson, Juliene G, Meleis, Afaf I, Lipson, Juliene G, Meleis, Afaf I
Relationships between Middle Eastern patients and Western health care professionals are often troubled by mutual misunderstanding of culturally influenced values and communication styles. Although Middle Easterners vary ethnically, they do share a core of common values and behavior that include the importance of affiliation and family, time and space orientations, interactional style and attitudes toward health and illness. Problems in providing health care involve obtaining adequate information, "demanding behavior" by a patient's family, conflicting beliefs about planning ahead and differing patterns of communicating grave diagnoses or "bad news." There are guidelines that will provide an understanding of the cultural characteristics of Middle Easterners and, therefore, will improve rather than impede their health care. A personal approach and continuity of care by the same health care professional help to bridge the gap between Middle Eastern cultures and Western medical culture. In addition, periodic use of cultural interpreters helps ameliorate the intensity of some cultural issues.
Preventive role supplementation: A grounded conceptual framework
1980, Meleis, Afaf I, Meleis, Afaf I, Swendsen, Leslee, Jones, Deloras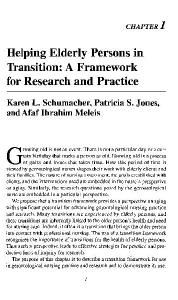 Helping Elderly Persons in Transition: A Framework for Research and Practice
1999, Schumacher, Karen L, Meleis, Afaf I, Jones, Patricia S, Meleis, Afaf I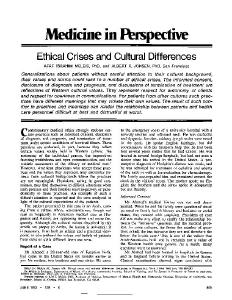 Ethical crises and cultural differences
1983-06-01, Meleis, Afaf I, Meleis, Afaf I, Jonsen, Albert R
Generalizations about patients without careful attention to their cultural background, their values and norms could lead to a number of ethical crises. The informed consent, disclosure of diagnosis and prognosis, and discussions of termination of treatment are reflections of Western cultural values. They represent respect for autonomy of clients and respect for openness in communications. For patients from other cultures such practices have different meanings that may violate their own values. The result of such conflict in practices and meanings can render the relationship between patients and health care personnel difficult at best and distrustful at worst.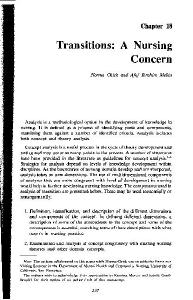 Transitions: A Nursing Concern
1986, Meleis, Afaf Ibrahim, Meleis, Afaf Ibrahim