Penn Nursing
Penn Nursing is built on a bedrock of doing more. Doing more—as clinicians—to save patients at the bedside. Doing more—as scientists—to solve unsolvable challenges. Doing more—as activists, policy makers, and leaders—to make high quality health and wellness care more accessible in our communities.
Penn Nursing has the number one undergraduate nursing program in the country, is the number one nursing school in the world, and has multiple number one and top-rated master's programs in the U.S. Penn Nursing experts and leaders have been advancing science and delivering solutions, shaping policy and practice, and engaging communities to promote health for over a century.
Search results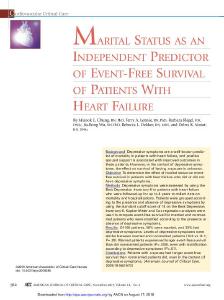 Marital Status as an Independent Predictor of Event-Free Survival of Patients with Heart Failure
2009-01-01, Chung, Misook L, Riegel, Barbara, Riegel, Barbara, Wu, Jia-Rong, Dekker, Rebecca L, Moser, Debra K
Background: Depressive symptoms are a well-known predictor of mortality in patients with heart failure, and positive spousal support is associated with improved outcomes in these patients. However, in the context of depressive symptoms, the effect on survival of having a spouse is unknown. Objective: To determine the effect of marital status on event-free survival in patients with heart failure who did or did not have depressive symptoms. Methods: Depressive symptoms were assessed by using the Back Depression Inventory-II in patients with heart failure who were followed-up for up to 4 years to collect data on mortality and hospitalizations. Patients were grouped according to the presence and absence of depressive symptoms by using the standard cutoff score of 14 on the Beck Depression Inventory-II. Kaplan-Meier and Cox regression analyses were used to compare event-free survival for married and nonmarried patients who were stratified according to the presence or absence of depressive symptoms. Results: Of 166 patients, 56% were married, and 33% had depressive symptoms. Levels of depressive symptoms were similar between married and nonmarried patients (10.9 vs 12.1; P=.39). Married patients experienced longer event-free survival than did nonmarried patients (P=.01). Conclusions: Patients with a spouse had longer event-free survival than nonmarried patients did, even in the context of depressive symptoms.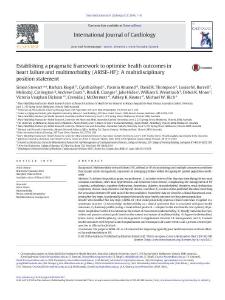 Establishing a Pragmatic Framework to Optimise Health Outcomes in Heart Failure and Multimorbidity (ARISE-HF): A Multidisciplinary Position Statement
2016-06-01, Riegel, Barbara, Riegel, Barbara, Boyd, Cynthia, Ahamed, Yasmin, Thompson, David R, Burrell, Louise M, Carrington, Melinda J, Coats, Andrew, Granger, Bradi B, Hides, Julie, Weintraub, William S, Moser, Debra K, Dickson, Victoria Vaughan, McDermott, Cressida J, Keates, Ashley K, Rich, Michael W
Background Multimorbidity in heart failure (HF), defined as HF of any aetiology and multiple concurrent conditions that require active management, represents an emerging problem within the ageing HF patient population worldwide. Methods To inform this position paper, we performed: 1) an initial review of the literature identifying the ten most common conditions, other than hypertension and ischaemic heart disease, complicating the management of HF (anaemia, arrhythmias, cognitive dysfunction, depression, diabetes, musculoskeletal disorders, renal dysfunction, respiratory disease, sleep disorders and thyroid disease) and then 2) a review of the published literature describing the association between HF with each of the ten conditions. From these data we describe a clinical framework, comprising five key steps, to potentially improve historically poor health outcomes in this patient population. Results We identified five key steps (ARISE-HF) that could potentially improve clinical outcomes if applied in a systematic manner: 1) Acknowledge multimorbidity as a clinical syndrome that is associated with poor health outcomes, 2) Routinely profile (using a standardised protocol — adapted to the local health care system) all patients hospitalised with HF to determine the extent of concurrent multimorbidity, 3) Identify individualised priorities and person-centred goals based on the extent and nature of multimorbidity, 4) Support individualised, home-based, multidisciplinary, case management to supplement standard HF management, and 5) Evaluate health outcomes well beyond acute hospitalisation and encompass all-cause events and a person-centred perspective in affected individuals. Conclusions We propose ARISE-HF as a framework for improving typically poor health outcomes in those affected by multimorbidity in HF.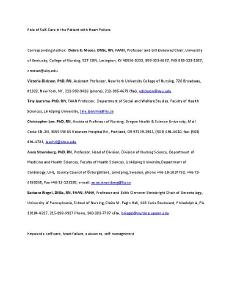 Role of Self-Care in the Patient with Heart Failure
2012-06-01, Moser, Debra K, Dickson, Victoria V, Jaarsma, Tiny, Lee, Christopher, Riegel, Barbara, Riegel, Barbara
Optimal outcomes and quality of life for patients with heart failure depend on engagement in effective self-care activities. Self-care is a complex set of activities and most clinicians are not adequately prepared to assist their patients to engage in effective self-care. In this paper, we provide an overview of self-care that includes definitions, the importance of self-care to outcomes, the physiologic basis for better outcomes with good self-care, cultural perspectives of self-care, and recommendations for the improvement of self-care. Promotion of effective self-care by all clinicians could substantially reduce the economic and personal burden of repeated rehospitalizations among patients with heart failure.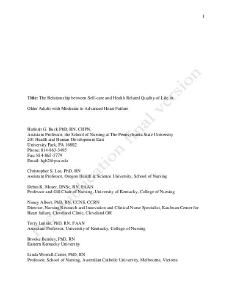 Relationship Between Self-Care and Health-Related Quality of Life in Older Adults with Moderate to Advanced Heart Failure
2012-01-01, Buck, Harleah G, Lee, Christopher S, Moser, Debra K, Albert, Nancy M, Lennie, Terry A, Bentley, Brooke, Riegel, Barbara, Riegel, Barbara
Background: Heart failure (HF) patients who follow the treatment regimen and attend to symptoms before they escalate are assumed to have better health-related quality of life (HRQOL) than those with poor self-care, but there are few data available to support or refute this assumption. Objective: The objective of the study was to describe the relationship between HF self-care and HRQOL in older (≥65 years old) adults with moderate to advanced HF. Methods: Self-care was measured using the 3 scales (maintenance, management, and confidence) of the Self-care of Heart Failure Index. Scores range from 0 to 100, with higher numbers indicating better self-care. Health-related quality of life was measured with the Minnesota Living With Heart Failure Questionnaire, a 2-subscale (physical and emotional) instrument. Lower numbers on the Minnesota Living With Heart Failure Questionnaire indicate better HRQOL. Pearson correlations, independent-samples t-tests, and linear and logistic regression modeling were used in the analysis. Results: In 207 adults (72.9 [SD, 6.3] years), New York Heart Association class III (82%) or IV, significant linear associations were observed between self-care confidence and total (r = −0.211; P = .002), physical (r = −0.189; P = .006), and emotional HRQOL (r = −0.201; P = .004). Patients reporting better (below median) HRQOL had higher confidence scores compared with patients reporting above-median HRQOL scores (58.8 [19.2] vs 52.8 [19.6]; P = .028). Confidence was an independent determinant of total (βs = −3.191; P = .002), physical (βs = −2.346; P = .002), and emotional (βs = −3.182; P = .002) HRQOL controlling for other Self-care of Heart Failure Index scores, age, gender, and New York Heart Association class. Each 1-point increase in confidence was associated with a decrease in the likelihood that patients had worse (above median) HRQOL scores (odds ratio, 0.980 [95% confidence interval, 0.963–0.998]) with the same controls. No significant associations were found between self-care maintenance or management and HRQOL. Conclusions: The degree of individual confidence in HF self-care is related to HRQOL, but self-reports of specific maintenance and management behaviors are not. Interventions that improve self-care confidence may be particularly important in older adults with moderate to advanced HF.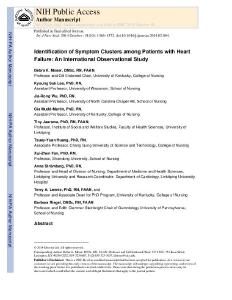 Identification of Symptom Clusters among Patients with Heart Failure: An International Observational Study
2014-10-01, Moser, Debra K, Lee, Kyoung Suk, Wu, Jia-Rong, Mudd-Martin, Gia, Jaarsma, Tiny, Huang, Tsuey-Yuan, Fan, Xui-Zhen, Strömberg, Anna, Riegel, Barbara, Riegel, Barbara
BACKGROUND: Virtually all patients with heart failure experience multiple symptoms simultaneously, yet clinicians and researchers usually consider symptoms in isolation. Recognizing and responding early to escalating symptoms is essential to preventing hospitalizations in heart failure, yet patients have considerable difficulty recognizing symptoms. Identification of symptom clusters could improve symptom recognition, but cultural differences may be present that must be considered. OBJECTIVES: To identify and compare symptom clusters in heart failure patients from the United States, Europe and Asia. DESIGN: Cross-sectional, observational study. SETTINGS: In- and out-patient settings in three regions of the world: Asia (i.e., China and Taiwan); Europe (i.e., the Netherlands and Sweden); and the United States. PARTICIPANTS: A total of 720 patients with confirmed heart failure. Propensity scoring using New York Heart Association Classification was used to match participants from each of the three regions. METHODS: Symptoms were identified using the Minnesota Living with Heart Failure Questionnaire. To identify symptom clusters we used cluster analysis with the hierarchical cluster agglomerative approach. We used the Euclidean distance to measure the similarity of variables. Proximity between groups of variables was measured using Ward's method. The resulting clusters were displayed with dendrograms, which show the proximity of variables to each other on the basis of semi-partial R-squared scores. RESULTS: There was a core group of symptoms that formed two comparable clusters across the countries. Dyspnea, difficulty in walking or climbing, fatigue/increased need to rest, and fatigue/low energy were grouped into a cluster, which was labeled as a physical capacity symptom cluster. Worrying, feeling depressed, and cognitive problems were grouped into a cluster, which was labeled as an emotional/cognitive symptom cluster. The symptoms of edema and trouble sleeping were variable among the countries and fell into different clusters. CONCLUSION: Despite the diversity in cultures studied, we found that symptoms clustered similarly among the cultural groups. Identification of similar symptoms clusters among patients with heart failure may improve symptom recognition in both patients and healthcare providers.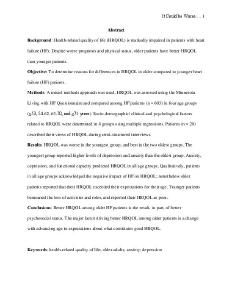 'It Could be Worse ... Lot's Worse!' Why Health-Related Quality of Life is Better in Older Compared with Younger Individuals with Heart Failure
2013-07-05, Moser, Debra K, Heo, Seongkum, Lee, Kyoung Suk, Riegel, Barbara, Riegel, Barbara, Lennie, Terry A, Arslanian-Engoren, Cynthia, Mudd-Martin, Gia, Albert, Nancy, Watkins, John
Background: health-related quality of life (HRQOL) is markedly impaired in patients with heart failure (HF). Despite worse prognosis and physical status, older patients have better HRQOL than younger patients. Objective: to determine reasons for differences in HRQOL in older compared with younger HF patients. Methods: a mixed methods approach was used. HRQOL was assessed using the Minnesota Living with HF Questionnaire and compared among HF patients (n = 603) in four age groups (≤53, 54–62, 63–70 and ≥71 years). Socio-demographic/clinical and psychological factors related to HRQOL were determined in four groups using multiple regressions. Patients (n = 20) described their views of HRQOL during semi-structured interviews. Results: HRQOL was worse in the youngest group, and best in the two oldest groups. The youngest group reported higher levels of depression and anxiety than the oldest group. Anxiety, depression and functional capacity predicted HRQOL in all age groups. Qualitatively, patients in all age groups acknowledged the negative impact of HF on HRQOL; nonetheless older patients reported that their HRQOL exceeded their expectations for their age. Younger patients bemoaned the loss of activities and roles, and reported their HRQOL as poor. Conclusions: better HRQOL among older HF patients is the result, in part, of better psychosocial status. The major factor driving better HRQOL among older patients is a change with advancing age in expectations about what constitutes good HRQOL.